Above the Shadow of the Giant
The Lemosho Route is Metamo's overwhelming choice for you to climb Kilimanjaro. Experience the most beautiful and interesting climb to the summit of the world's largest freestanding mountain.
Explore this journey
Duration
8 day climb / 11 days total
Price
Starting from
$5,700
Overview: Your Kilimanjaro Climb
Standing at the very top of Africa, "Above the Shadow of the Giant" is your destination. Metamo is fully committed to doing everything in our power to help you realize your great story. You sacrifice a great deal to overcome the challenges that try to get in your way as you climb Mt. Kilimanjaro. We have selected an itinerary with what we feel is the absolute best acclimatization plan and the best route. Our overarching goal is to give you the best chance of success combined with the very best possible experience on the mountain.
Stand on the rooftop of Africa, Mount Kilimanjaro, at 19,341 feet
Optional pre-climb acclimatization hike above 6,500 feet
Trek the most beautiful of all of the routes up Kili
Extra days for acclimatization provide the greatest chance of success

Extraordinary care from your guides, chefs, and porters
A relaxed celebration evening with time to rest up before your long flight home the next day, unless you extend your trip for a thrilling wildlife safari extension and/or trip to Zanzibar
Metamo's Focus on Maximum Acclimatization! Our main goal is to get you to the top of the mountain and down in the safest and most enjoyable way possible. We focus on maximum acclimatization, which is the key to your health and ultimate success as you climb Kilimanjaro. Metamo's Lemosho Route allows for seven full days dedicated to the ascent, so your chances of success are far higher than other routes. 
The Most Beautiful Route. The Lemosho Route is a beautiful, uncrowded, and unspoiled trail on Kilimanjaro's remote south-west flanks. The Lemosho glades provide the best scenery as you walk on beautiful rainforest trails with colobus monkeys swinging from the trees, colorful birdlife, and other amazing flora and fauna. You may see buffaloes and forest elephants. You enter the giant heather moorland zone and the Shira Plateau—an experience that is unique to the Lemosho Route—and enjoy views of Kilimanjaro that climbers on other routes never get to see.
Metamo Avoids Crowded Camps. We avoid the crowded camps whenever possible. Barafu Camp is particularly crowded and noisy with climbers preparing for their climb leaving around midnight, which we try to avoid (unless the winds are too high to move on to a higher camp or general fatigue and acclimation concerns for individual(s) warrant spending the night at Barafu). The Lemosho Camp Route brings you an hour up the trail past Barafu, a higher elevation by 700 feet in preparation for the summit climb the next morning. After the summit, most climbers go all the way to Mweka Camp. Instead, we camp at Millennial Camp. This camp avoids the larger crowds at Mewka and gives more balance to the time on the descent and the toll on your body, making for a more enjoyable trek back down.
It's Like Traveling from the Equator to Antarctica! You experience five distinct ecological zones as you climb Kilimanjaro, moving from bushland to rainforest, to moorland, to alpine, and finally arctic. No other route allows for such ecological diversity.
Only Emergency Evacuation Road. If someone in your party comes down with at least three symptoms of altitude sickness, they will most likely start to manifest at over 10,000 feet. Between Days 2 and 3 of your climb up Kilimanjaro, there is an emergency safety road that crosses the trail and this makes it easy to get them to a vehicle and on to safety. This is not available on any other route.
Metamo Guides, Chefs, Cooks, and Porters are better served. It takes a lot of effort to climb Kilimanjaro. Spending nine days on the mountain is just healthier for everyone. Ethical treatment of our porters and entire mountain crew—the backbone of the effort—is something Metamo is extremely dedicated to. We make sure that they receive higher compensation, better food, and a more favorable route.
Metamo Camps provide the best comfort, food, and services possible. We always carry oxygen and our highly experienced guides and crew are a fun group, taking the edge off of things with their good humor, singing, and love of life. Our lead guide will check your oxygen level at least twice a day throughout your climb up Kilimanjaro. 
Attitudes & Altitudes. All great experiences start as positive thoughts. Before you climb Kilimanjaro, it's crucial to get in shape physically and mentally and our acclimatization plan will give you the best chance for success.
Itinerary: 8 Day Journey to Climb Kilimanjaro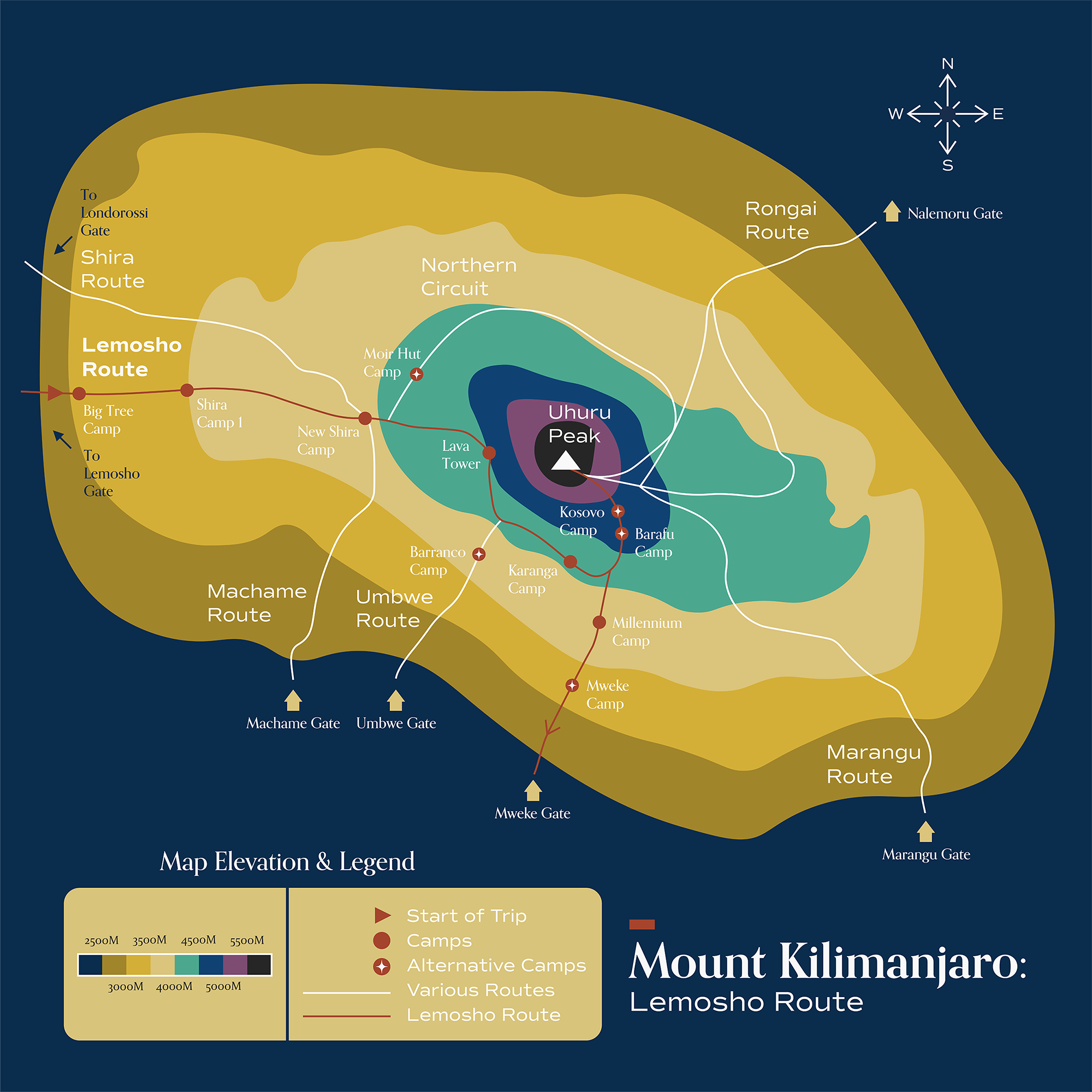 Day 1: Arrive Arusha, Tanzania
Flying into Kilimanjaro International Airport, receive a warm welcome before transferring to your hotel in Arusha — your home base for two nights before you begin your climb.
Day 2: Arusha National Park
Arusha is a bustling safari hub and spending some time walking around, visiting a market, and people watching is a whirl of fun. It is also a good place to rest and get over any jet lag, sort your mountain gear, and start to soak up the pace of life in Africa. Your mind is on the mountain but these two days are important to help prepare for your climb. Optional activities include a visit to a coffee plantation or a hike to 7,000 ft. on Mt. Meru, to help with pre-climb acclimatization.
Day 3: Mountain Day 1
Mkubwa Camp (2,750 m/9,020 ft)
Hiking Distance: 6 km/3.7 miles
Hiking time: Approximately 3-4 hours
Elevation Gain: 500m/1,640 ft.
Ecological Region: Montane Rain Forest
Your day starts early with a hearty breakfast followed by a one-hour drive to the Londorossi Gate (2,225 m/7,380 ft) for check-in. Here, you will meet your mountain crew. From the gate, follow a forest track to Lemosho Glades and enter Kilimanjaro National Park. Hike uphill for 3-4 hours along beautiful forest trails with sweeping lichens, giant ferns, and flowers—and watch as the black and white arboreal colobus monkeys swing from the trees. Your porters have arrived at our first campsite, Mti Mkubwa (Big Tree) well before you and prepared camp. Temperatures tonight could drop below freezing.
Day 4: Mountain Day 2
Mti Mkubwa Camp (2,750 m/9,020 ft) to Shira Camp I (3,500 m/11,485 ft)
Hiking Distance: 8.1 km/5 miles
Hiking Time: 5-6 hours
Elevation Gain: 700m/2,296 ft.
Ecological Zone: Moorland
Every moment—and everything—seems to vibrate with life as the trail gradually steepens. We enter the stunningly beautiful giant heather moorland zone littered with giant groundsel, Senecio and lobelia, crossing several streams. We then cross the Shira Ridge and reach the west side of the Shira Plateau located on moorland meadows. Looking east, you can see the dramatic Western Breach. The beauty of today lifts the spirits and stirs our passion for more adventure ahead. A nutritious and delicious dinner is served before you retire to your tent for the night. Temperatures will drop well below freezing tonight.
Day 5: Mountain Day 3
Shira Camp I (3,500 m/11,485 ft) to Shira Camp II (3,840 m/12,600 ft)
Hiking Distance: 6km/4 miles
Hiking Time: 4 hours
Elevation Gain: 500m/1,640 ft.
Ecological Zone: Alpine Desert
A gentle, easy-paced, and important acclimation hike takes place across the plateau leading to Shira Camp II on moorland meadows by a stream. From Camp, several different hikes will be made available on the plateau to further the acclimation process. More expansive views of Kilimanjaro are seen from the higher elevation. Your mountain crew prepares camp in advance for you and they have impeccable timing with your meals that are deliciously prepared. Best of all, your mountain crew offers encouragement, good humor, and goodwill to the experience.
Day 6: Mountain Day 4
Shira Camp II (3,840 m/12,600 ft) to Lava Tower Camp (4,630 m/15,190 ft) *
Hiking Distance: 7km/4 miles
Hiking time: 6-7 hours
Elevation Gain: 790m/2,590 ft.
Ecological Zone: Alpine Desert Zone
Today is another important day for acclimatization as you climb above the highest vegetation of the Alpine Moorland Zone with sweeping lichens and heather to reach the Alpine Desert Zone. On a rocky landscape, you reach 15,000 feet in elevation for the first time. It is also the point where some climbers start to experience symptoms of headaches and breathlessness. It is also easy to get irritable. Looking eastward and upwards you are greeted with spectacular views of the Western Breach. The landscape becomes rocky as you hike to Lava Tower, a 400-foot volcanic rock formation and your camp for tonight. Lava Tower is an impressive remnant of Kilimanjaro's last major volcanic activity 360,000 years ago. While it does cross your mind, the chances of it happening again this evening are rather slim.
*It is possible that the lead guide will determine it necessary to continue on past Lava Tower Camp to the lower elevation camp of Barranco, should there be acclimation concerns for an individual(s).
Day 7: Mountain Day 5
Lava Tower Camp (4,630 m/15,190 ft) to Karanga Camp (4,050m/13,287 ft.)
Hiking Distance: 9km/5.5mi
Hiking time: 8 Hours
Elevation Gain: -1,900
Ecological Zone: Alpine Desert
After breakfast, descend from Lava Tower to the Great Barranco Wall. Climbing the wall is not as steep as it appears. You will have breathtaking views over to Barafu and Mount Meru. From the top of the Wall, you will begin to appreciate the scale and beauty of Kilimanjaro and this is a great spot for a group photo. While tiring, climbing the wall is a great acclimatization exercise, taking you to 14,500 feet. From the top of the Wall, descend through undulating terrain into the lush and steep-sided Karanga Valley and the Karanga River. Proceed a short distance to Karanga camp, which is well-prepared by your porters. After lunch, those who have the energy will be encouraged to hike with your guide to higher elevations to further the acclimatization process.
Day 8: Mountain Day 6
Karanga Camp (4,050m/13,287 ft.) to Kosovo Camp (4,815m/15,800 ft.)
Hiking Distance: About 5 km/3 miles
Hiking time: 5 hours
Elevation gain: 750 m/2,460 ft.
Ecological Zone: High Alpine Zone
Today is another day of changing topography, as the landscape becomes more sparse and temperatures become colder. We make the steady climb to Barafu Camp where the vast majority of climbers stay for lunch. After lunch and a rest, we press on for 1.5 hours to Kosovo Camp. The focus remains on staying hydrated, eating well, staying warm, and getting as much rest as possible. At a higher altitude and much quieter than Barafu (due to the number of climbers and porters), we are much better prepared for the higher elevations to come and hopefully a more restful night.
*It is possible that your lead guide will determine it necessary to overnight at Barafu Camp instead of pushing on to Kosovo Camp if there are high winds or should there be acclimation concerns for an individual(s).
Day 9: Mountain Day 7 (Summit Day)
Kosovo Camp (4,815 m/15,800 ft.) to Uhuru Summit (5,895m/19,341 ft.) to Millennial Camp (3,733 m/12,250 ft.)
Hiking Distance: 15 km/9.3 mi
Hiking Time: 8-12 hours
Elevation change: +1,085m/3,592 feet & -7,091
Ecological Zone: Artic
Our night's stay at Kosovo Camp allows us to be 1.5 hours ahead of the majority of climbers at Barafu Camp. We begin our climb just after midnight. The climb today is mentally and physically demanding but our good climbing pace, acclimatization preparation, hydration, and other practices have prepared us in the best way possible. Serious AMS can develop if adequate altitude acclimatization has not been achieved so the guides will monitor you very closely.
Standing at the very top of Africa to watch the sunrise and absorb the sheer greatness of the moment is a peak experience. You sacrificed a lot to overcome the challenges. The mountain gives you something that will stay with you forever. After celebratory hugs and photographs and more time gazing out over Africa, it is time to make the long descent to lower elevations where the air is rich with oxygen. Arrive at Millennial Camp for more celebrations with your fellow climbers and Mountain Crew.
Day 10: Mountain Day 8
Millennial Camp (3,733 m/12,250 ft.) to Mweka Gate (1,633 m/6,500 ft)
Hiking Distance: 12km/7.45miles
Hiking Time: 6 hours
Elevation Change: 2,100m/5,750 ft
Ecological Zone: Montane Forest
Our last day is a descent of another 7,000 feet as our lungs are replenished with oxygen. While the trail is steep at times, gravity brings us down through the thickest forest of the trek with 20-foot ferns and birdsong. Walking alone you think of Jurassic Park and speed up your pace. A lunch celebration with the entire mountain crew finalizes our Kilimanjaro experience but leaves you with memories and stories to last a lifetime. Our bodies are beat up but our spirits soar higher than what we left behind. There is something unexplainable about the experience of climbing such a mountain. Enjoy a celebratory lunch, get your summit certificates, and say your reluctant farewell to your mountain crew. Now it's time for a long-overdue hot shower, some drinks, and more celebration with a well-deserved relaxing night at your hotel. Now, comfortably in Kili's shadow, Lala Salama (Sleep well)!
Day 11: Arusha and onward flight home
You are certainly sore, beat up, but your spirits say otherwise. You have come all the way to Africa and there is so much to still see and experience! Extend your adventure and keep the celebration going by extending your adventure on a Metamo Classic Wildlife Safari and/or going to exotic Zanzibar Island! Some quality from each place we travel to comes with us to the next destination.
Private airport and mountain transfers with complete guide services throughout 

Double occupancy accommodations
All meals
All tipping throughout of tour director, lodging staff and management, mountain crew including lead and assistant guides, cook(s), porters and transfer drivers
Wildlife safari game-viewing drives
Services of English-speaking guides and drivers
All park and camping fees
Membership in Flying Doctors Society
Sleeping tents and mattresses
Portable shower and toilet
First aid kit, and pulse oximeter
Customary tipping of support crew
Salaries of everyone who helps you climb Kilimanjaro: the lead guide, assistant guide(s), chef(s), porters
Bottled water before and after climb
Storage and organization of gear, baggage, and personal effects
Services of our management team in the USA and Africa
Guaranteed mountain departures with just two guests
| | |
| --- | --- |
| | Price |
| Adult / Child | $5,700 |
| Single Supplement | $750 |
Why should I climb Kilimanjaro?
It would be a great source of inspiration for your life. In the end, looking back, you won't remember what you did at work but you will remember standing at the highest point of the entire continent of Africa and watching the sunrise. You will remember that you overcame some fears and challenges and accomplished something truly special.
Why did Metamo choose the Lemosho Route over others?
Lemosho is arguably the most beautiful of the routes and it is unspoiled on the first part of the journey. Also, the route allows for an extra day for acclimation, which gives you the best chance of success to reach the rooftop of Africa.
Can you "summit" up everything I need to know?
Get in shape physically and mentally. We'll send you a pre-trip packet with all you need to know in terms of what to pack and wear, etc. Metamo staff, guides, chefs, and porters are dedicated to getting you up the mountain—you can do this!
Will I wish I had extended my trip to go on safari, to Zanzibar, or both after the climb?
Probably. That is, unless your time or budget doesn't allow for it, you are certain you will be coming back to Africa, or if you've already been on safari or to Zanzibar. Going on a quintessential safari after climbing Kilimanjaro is a sweet proposition. Flying off to Zanzibar to put your sore feet in the warm Indian Ocean isn't too bad either. Combining the climb with a safari and ending with Zanzibar is the best of all worlds.
What happens if I don't make it to the top?
You will have given it your best effort and that is all we can expect of ourselves. In the unlikely event that you do not make it to the summit, the experience will be incredible regardless. That being said, we do everything in our power to put you in a position for success from the moment you arrive until you stand at the top of Kili.
Extensions
For those who don't want to miss out on any aspect of Africa.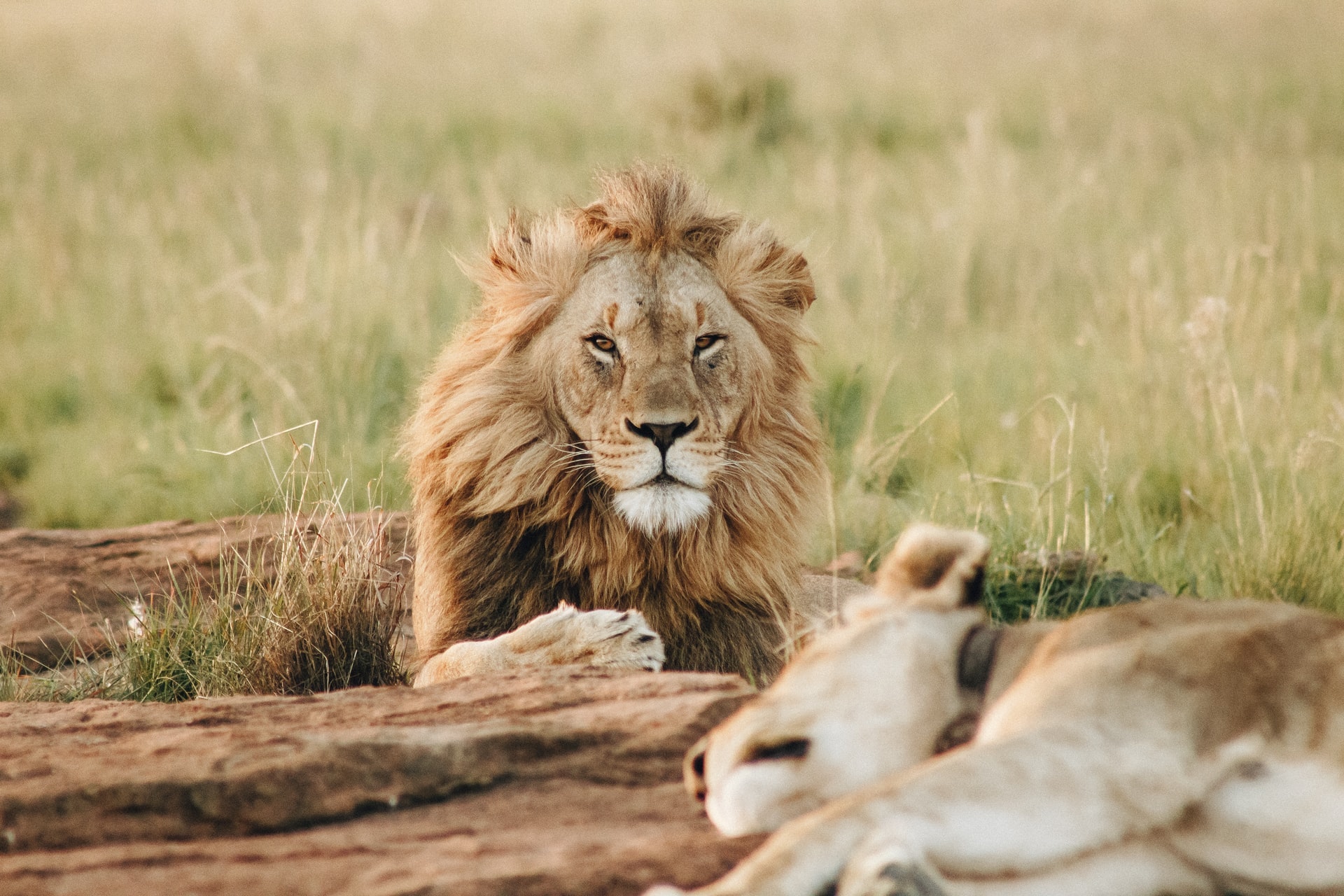 Safari Extension
Tanzania
Price
Starting from $5,480
Want us to design a custom journey for you?
Ready to start your adventure?
We're ready to be your guide as you embark on the wondrous discovery of your own great story.