Kenya's Timeless Beauty
Iconic views of Kilimanjaro and the elephant herds of Amboseli, the timeless beauty of Laikipia, and Maasai Mara with its annual Great Wildebeest Migration. This ten-day Kenyan journey provides an enlightening experience with wildlife, the land, and the people of Kenya.
Explore this journey
Price
Starting from
$9,600
"Kenya's Timeless Beauty" is an engagement in your great story. It begins with a burning desire to roam free across extraordinary landscapes under the Africa sky. Marvel at the iconic view of Kilimanjaro looming in the distance while you watch with wide eyes the regal and playful elephants of Amboseli crossing right in front of your safari vehicle. The timeless beauty of Laikipia takes you to the imagined African safari of your dreams: vast and open, a glimpse of the infinite. Safaris on vast savanna grasslands with breathtaking panoramas on Kenya's section of the Serengeti Plain, Maasai Mara with its annual Great Wildebeest Migration—the most immense movement of animals in the world. This ten-day Metamo odyssey provides an enlightening experience with the wildlife, the land, and the people of Kenya. Enjoy unparalleled romantic settings in absolute comfort with exceptional service at some of the most unique and luxurious tented camps and lodges in the world. You will not want to end this journey through Kenya!
Iconic views of Mount Kilimanjaro
Great elephant herds of Amboseli
Expertly guided walking Kenyan safaris under endless skies
The timeless beauty of Laikipia
Chances to discover the Big Five and the Great Wildebeest Migration
Otherworldly Maasai Village visit
Options for hot air balloon, horseback, bush dinners, and more
Lodging in optimal and secluded locations brimming with romantic charm
"There is language going on out there—the language of the wild. Roars, snorts, trumpets, squeals, whoops, and chirps all have meaning derived over eons of expression… We have yet to become fluent in the language—and music—of the wild."
Day 1: Arrive in Nairobi
Karibu Kenya! (Welcome to Kenya!) You are soon to experience the instantaneous hospitality and infectious smiles of the people—the quintessential experience of Africa. Arriving this evening, you will receive a warm Metamo welcome with immediate transfer to your charming 5-star hotel, where a sumptuous bed is awaiting you after your long flight. Already you can feel yourself letting go of the stress and tension and feel the joy of being in the moment.
Days 2-3: Amboseli
Elephant safaris in Amboseli National Park are some of the best in all of Africa. There are moments when you wonder if the elephant is getting too close. She seems to be caught between moving on with her herd and having a closer look at you. She is swaying her trunk and flapping her tail—good signs your driver-guide gently explains to you. It is when she turns and faces you head-on, raises her ears, holds her head up high, points her tail to the side, and raises her trunk and tusks that she is telling you she is not at all happy. Should that happen, which is very possible, your driver-guide will calmly start your safari vehicle in anticipation of a charge—like he has done hundreds of times before.
Amboseli is quintessential Africa, with its large elephant herds and views of Africa's highest mountain, Kilimanjaro, looming in the distance. It is also the home of the legendary Maasai Tribe who tend their cattle and live in villages just on the outskirts of Amboseli's boundaries. Game is easy to spot and the large tuskers are so accustomed to vehicles that you can come quite close! You may see herds of up to 100 elephants who can be found drinking in one of the permanent springs in the swampland. Keep your eyes trained and you might see lions, cheetahs, warthogs, baboons, jackals, hyenas, and flamingos, among others. Amboseli is the second most visited park in Kenya only after Maasai Mara and it is small enough and flat enough that you will get to explore most of the park. Mostly open country, there is good visibility over the plains although Kilimanjaro—with its base at the Tanzanian border—is often shrouded in clouds. Dawn and dusk are the best times to see the mountain looming in the distance and, with some luck, elephants will pass by at just the right time for you to photograph them with colossal Kilimanjaro as the backdrop. The marshes in Amboseli are permanent and allow for hippos to remain all year. There is prolific birdlife in Amboseli with over 400 species identified.
Days 4-6: Lewa Wildlife Conservancy, Laikipia Plateau
The majesty of Africa is all around you on the Laikipia Plateau. You feel inconspicuously small in this wide-open space among the creatures you watch with awe. These days in every moment there are real opportunities to learn something new about life. A place of timeless beauty, Lewa Conservancy is one of the lesser-known wildlife areas in Kenya and the ability to take walking safaris is one of the reasons it is a very special safari destination. On a walking or camel safari, you will enjoy the feeling of the unrestrained adventure and romance of the African wild. A safari is an unscripted encounter but so too are other parts of your journey.
Located on the vast Laikipia plateau, one of Kenya's biggest stretches of wilderness and Africa's most successful wildlife conservation area, Laikipia has more endangered species than anywhere else in all of East Africa. Ten percent of the entire endangered black rhino population and fourteen percent of the white rhino population in Kenya live in Lewa because of its unprecedented conservation efforts. You have the chance to see the Big Five during your time at Lewa in addition to many unique animals seldom found elsewhere, including the endangered Grevy's zebra, blue-legged Solami ostrich, reticulated giraffe, giraffe-necked gerenuk, and the elusive wild dog. There are few things quite as thrilling as tracking lions or leopards with your expert safari guide and seeing elephants drinking at a watering hole or a tower of giraffes meandering by. You can opt to go on a camelback safari, which is another way to have an exciting experience up close and personal. Lewa Conservancy was transformed from a sprawling cattle ranch into a conservation area by conscientious landowners who believed in working closely with the region's communities. During your time at Lewa, you will gain insight into the conservancy's efforts and enjoy an abundance of exciting activities.
Days 7-9: Maasai Mara Game Reserve
Fly high above the Great Rift Valley to Kenya's most famous game park, Maasai Mara. As you fly over this northern extension of the Serengeti, you start to see the incredible jaw-dropping sight of herds of elephants and other large mammals meandering across the plains looking no bigger than the tiniest of creatures. Between July and October, over one million wildebeest and zebras make the dangerous crossing of the croc-infested Mara River in search of new grazing territory. Between your safaris, enjoy the peacefulness between what was and what will be on your private veranda with boundless views over the vast ecosystem.
"The Mara" is known for its great herds of plains game, like black-maned lions, leopards, cheetahs, and elephants, as well as virtually every other kind of animal found in Kenya. Highlights during our time here include phenomenal game viewing, a walk along the banks of The Mara River—where hippos and crocodiles are often seen in great numbers—and exploring the optional activities in The Mara, which include bush dinners and sundowners, visits to a local school and other cultural experiences, and of course the legendary early morning hot air balloon safaris over The Mara, among others. Culturally, the reserve is extraordinary because of the proud and colorful Maasai who inhabit the area who cover themselves with their red cloaks, a sharp contrast to the earth tones all around you. The park is without a doubt one of the greatest safari destinations in Africa and you will have the best seats in the house. There is really no predicting what will happen next while on safari you are on safari nor what mind-blowing stories and photographs you will bring home with you. Maasai Mara—a vast savanna grassland, dotted with acacia trees, with rolling hills and breathtaking panoramas in every direction—is one of the best places in all of Africa to spot the Big Five.
Day 10: International flight onward
Rise before the sun and enjoy the pleasant aroma and a cup of Kenyan coffee, one of the most sought-after coffees in the world. Without time to finish the cup, your driver-guide is hurrying you along, excited about your early morning game drive. The animals are active and the golden light permeates everything including your spirit—as it has done throughout this expedition. Upon your return, say your reluctant farewells to your guides and lodge staff before flying back to Nairobi where day rooms await you. You have a feeling like you have left something behind as you start to board your plane. You have all of your belongings and exciting gifts for your loved ones, so what is it? Then you realize that you are leaving some part of yourself behind. You will have to one day return to Africa to find it.
All airport arrival welcomes and departure farewells with private transfers
Double occupancy accommodations
All meals
Wildlife safari game-viewing drives
Services of English-speaking guides and drivers
All park and conservancy fees
Membership in Flying Doctors Society
All internal flights
Customary tipping of guides
Gratuities to lodge staff
Bottled water while on safari
Storage and organization of gear, baggage, and personal affects
Services of our management team in the USA and Africa
Guaranteed departures with just two guests
Why these dates?
The Great Migration. The Great Wildebeest Migration is a continuous cycle of life, movement, and survival as the animals move in a huge circuitous route clockwise around the great Serengeti Ecosystem. In August the migration is in its full glory. While impossible to predict when the 1.5 million wildebeest and zebra and other animals cross from Tanzania into Kenya, August is at the heart of the migration. Timeless Beauty is far more than seeing the migration as you venture to Amboseli, Laikipia, and across the landscape of the Great Rift Valley as Kenya's timeless beauty presents itself to you.
Hot air balloon over Maasai Mara Game Reserve
Enjoy a peaceful early morning hot air balloon ride viewing animals down below as the sun starts to rise with a wonderful buffet breakfast and champagne in the bush to follow.  This is a trip within a trip of a lifetime!
Featured Date Pricing
Adult: $9,960
Child: $8,400
Single Supplement: $2,500
| | | | |
| --- | --- | --- | --- |
| | Low-Season | Mid-Season | High-Season |
| Adult | $9,600 | $10,400 | $11,200 |
| Child | $8,200 | $8,800 | $9,200 |
| Single Supplement | $2,400 | $2,600 | $2,800 |
What are the coolest aspects of this ten-day safari in Kenya?
It is impossible to come up with a list of the coolest aspects because it is such an all-encompassing experience. Just breathing the air of Africa as you drive off to safari in the early morning tops the list. Sitting around a fire sharing stories of the day on safari under the stars is way up there too. The moment you see your first giraffe in the wild, an unexpected monkey steals a banana out of your backpack, the warm golden light that bounces off of a brightly-colored shack on the side of the road—or maybe it's those moments when you feel like you are inside the pages of a Hemingway novel. It is also very cool to know that Metamo's curated selection of camps and lodges are selected to have sustainable and conservation management practices that look toward long-term sustainability. They make a significant contribution to the conservation of Kenya's ecosystems that support culture and wildlife. Metamo conscientiously selects safari accommodations that follow an ethos of sustainability, conservation, integration of green technology, and a light footprint. Learn more about our commitment to the greater community.
What is the main reason I should choose this 10-day Kenya adventure over the 9-day Kenya adventure?
This isn't an easy one because the genesis of the two itineraries come from the same place: adventure in Africa and the life-changing aspects that come with these adventures. Amboseli is quintessential Africa and spending so much time around elephants is an enlightening experience. Amboseli is a great place to start your safari adventure. So is Samburu which is more untamed and less visited. Laikipia feels timeless and you will enjoy being off the beaten track. Mount Kenya Safari Club is going back to another time in the colonial past. All of our Kenyan trips end up in "The Mara" with a chance to witness the greatest immense movement of animals in the world: the Great Wildebeest Migration (July through October).
What three words would you use to describe this adventure?
Unrestrained, timeless, romantic.
If you had to take all of your Metamo adventures and tell me the reason why I should go on this trip overall others what would that be?
This is a great trip if you love elephants, a contrast of experience, walking in the open, and time to witness the calm rhythm of life that escapes us in our material world. You are entering a magnificent story saturated with personality. Some quality from each place we travel comes with us to the next destination.
How will this adventure help me with my life?
Many of our previous clients point to a dramatic shift in perspective and a real opportunity in every moment to learn something new about life. When life doesn't change much from day-to-day in our world of work and routine, we can lose our sense of wonder. When we venture out into the world and expand our horizons, we are never the same. You came to Africa for adventure, to live your dreams, and to lead your family and friends on new horizons and new heights. In the end, you leave Africa but it is not able to leave you. It gets inside your heart, mind, and soul. It is your magnificent story now and it reflects your own imagination that took you to Africa in the first place.
Extensions
For those who don't want to miss out on any aspect of Africa.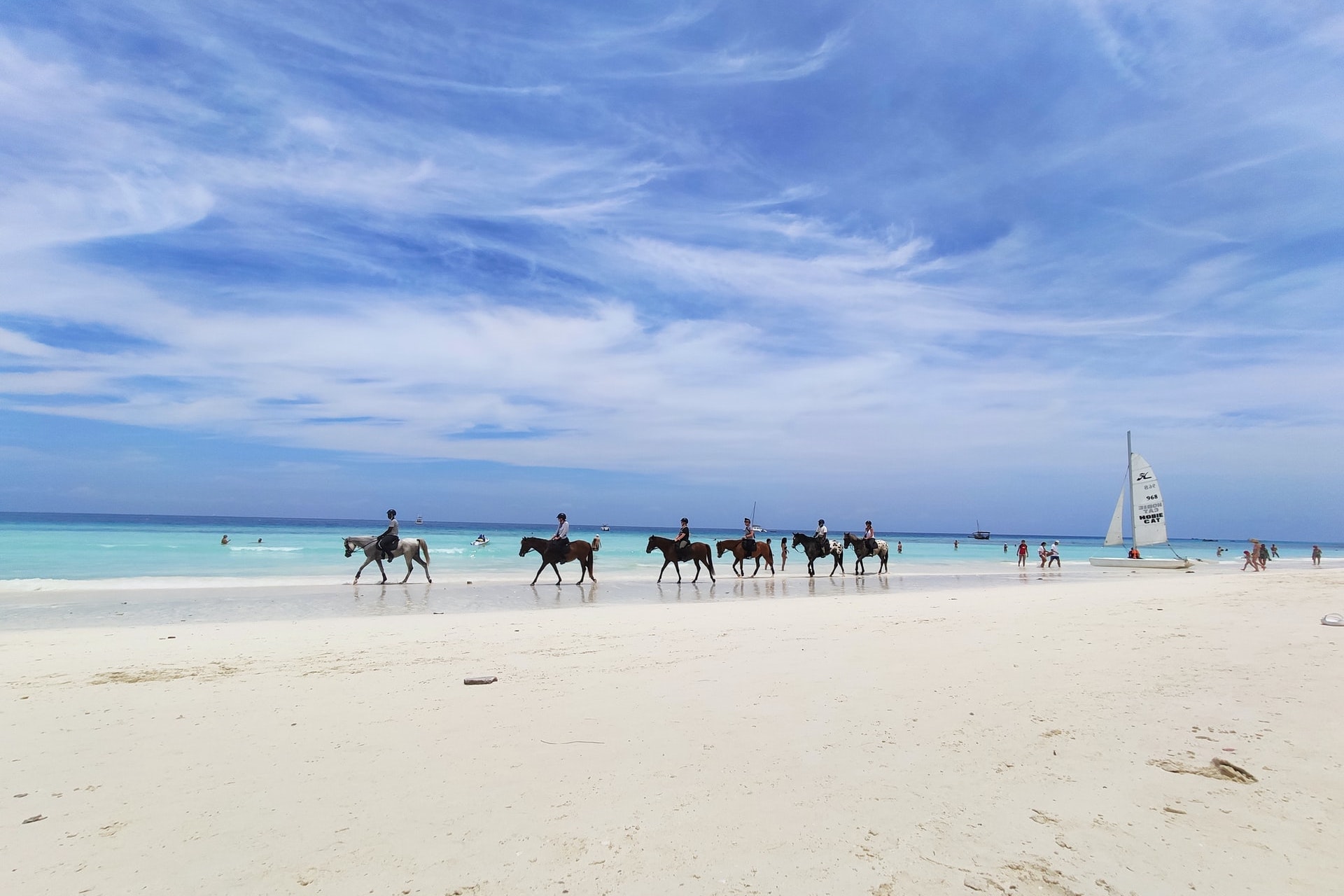 Zanzibar Extension
Tanzania
Price
Starting from $3,200
Want us to design a custom journey for you?
Ready to start your adventure?
We're ready to be your guide as you embark on the wondrous discovery of your own great story.