Endless Plains & Zanzibar
The "Endless Plains" of the Serengeti represent the essence of Tanzania's wild realm of extraordinary landscapes. Serengeti is perhaps the most impressive wildlife sanctuary in the world. Ngorongoro Crater is also a spectacular game viewing destination. After your days on safari, the safari grasslands, rusty earth, and animals uncannily blending into their environment are swapped for turquoise waters and the white-sand beaches when you reach Zanzibar Island.
Explore this journey
Price
Starting from
$11,850
No other name so captures the essence of an African safari in Tanzania as Serengeti. The "Endless Plains" of the Serengeti is renowned for having the greatest concentrations of wildlife in the world, including the greatest wildlife spectacle on earth—the Great Migration of Wildebeest on the Serengeti. The park has more large animals than any other protected area on earth.  Ngorongoro Crater is the largest intact caldera in the world with over 30,000 mammals on the floor of this extinct volcano.  Known as "Spice Island," Zanzibar is a completely different side of Africa.  Combining two of the very best safari parks in the world with Island paradise, is an experience of a lifetime and something you cannot find anywhere else in the world.
Abundant wildlife on the Serengeti Plains
Multiple days on safari in the Serengeti which has the largest concentration of lions in Africa
Safaris on the crater floor of Ngorongoro, the "Eighth Wonder of the World"
Chances to discover the Big Five and Great Migration
Otherworldly Maasai village visit
Relax along white-sand beaches on exotically romantic Zanzibar Island
Enjoy an array of water sports
Visit Spice Island's 1,000-year-old Stone Town
"To witness that calm rhythm of life revives our worn souls and recaptures a feeling of belonging to the natural world. No one can return from the Serengeti unchanged, for tawny lions will forever prowl our memory and great herds throng our imagination."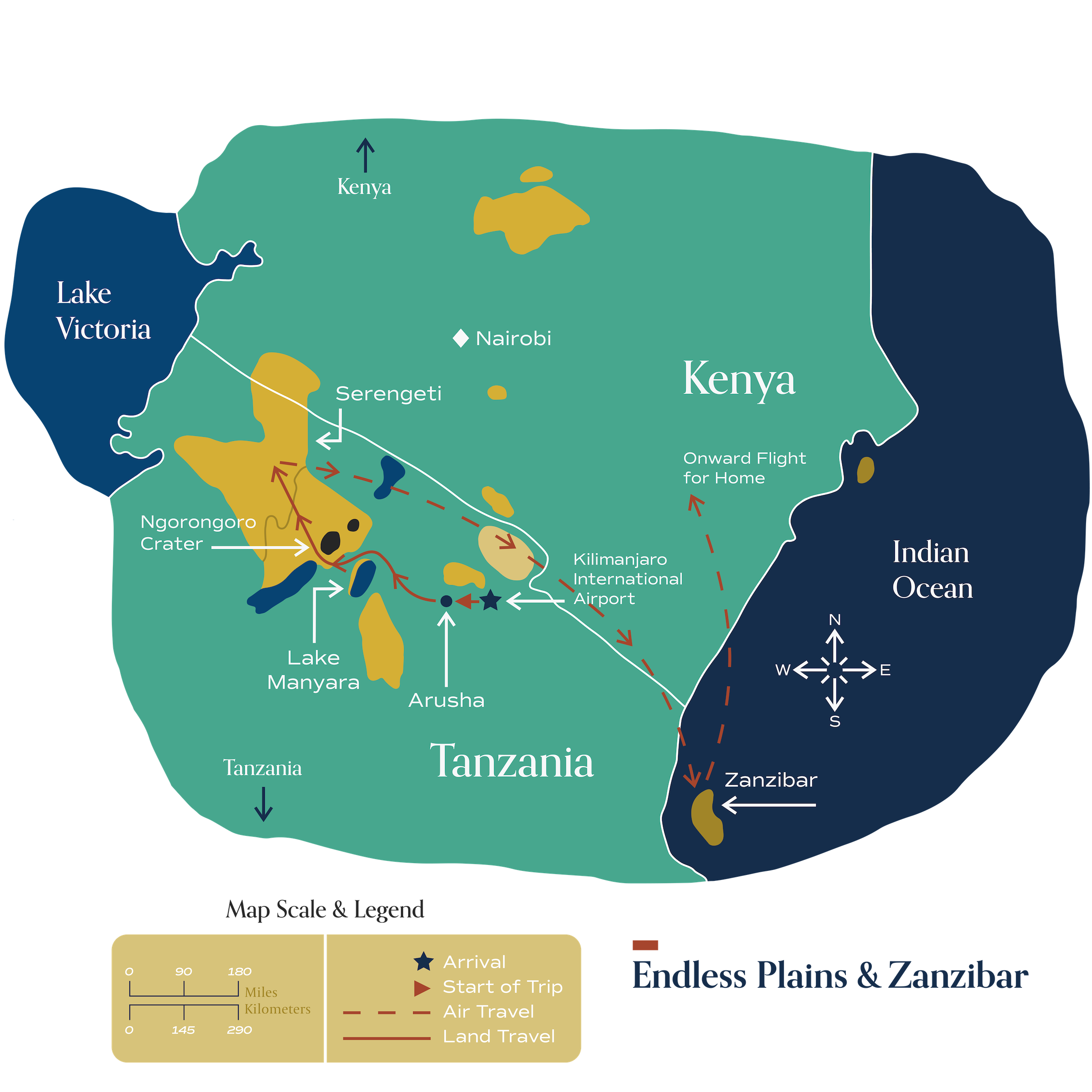 Days 1: Arrive in Arusha
Arriving this evening in Tanzania's capital city, Arusha, receive a warm Metamo welcome with an immediate transfer to your delightful hotel and sumptuous bed waiting for you after your long flight. From the moment you arrive, you will begin to enjoy the very best of Tanzanian hospitality and service—the quintessential experience of Africa.
Days 2-3: Ngorongoro Crater
After breakfast depart in your safari vehicle for Ngorongoro Crater. Ngorongoro towers above the Northern Serengeti Plain and it is celebrated as containing some of the most magnificent scenery in the world. Ngorongoro's 105-square-mile crater is the largest unbroken crater on Earth and is packed with just about every species of wildlife found in East Africa. It is possible that we will see the Big Five—all of them—in one day. Large plains game permanently inhabit the area and the scenery is sensational. Some 30,000 animals live in the crater and, because the grasses are short, game is easily spotted and can often be approached quite closely. It is also one of the few parks in Africa where rhinos are relatively easy to locate. En route to Ngorongoro we come to Mto Wa Mbu, a thriving village that lies at the entrance to beautiful Lake Manyara National Park. The deep rusty brick-red colored earth seems to dust everything. It lightly covers the brightly colored storefronts and the whistling thorn and acacia trees, making everything seem from a different time. Cultures from across Tanzania are represented here and it is fascinating to walk through the village and shop for local crafts. Drive down the 1900-foot crater wall from the rim of this spectacular extinct volcano. Here you will find Africa's largest permanent concentration of wildlife. Ngorongoro has been referred to as the "Eighth Wonder of the World."
Days 4-7: Serengeti
The morning light is brilliant as you cross the expanse of the Ngorongoro Conservation Area bound for the Serengeti, home to magnificent creatures and arguably the greatest wildlife theater on earth. An optional visia to Olduvai Gorge en route is provided where you walk to the bottom of the gorge where Mary Leaky discovered the remains of Australopithecus Homo Habilis and Homo Erectus. Contemplating the breath of time of mankind's evolution is humbling, if not incomprehensible. It is hard for us to appreciate time beyond two or three generations, much less the millions of years like we are witnessing being unraveled before us as we walk down to the excavated bottom of Olduvai Gorge.
On the Serengeti Plain lives an estimated 2,500 lions and there are more cheetahs here than anywhere else in Africa. Hyenas, wildebeests, zebras, gazelles, ostriches, hippos, and other animals can be seen in abundance. Covering more than 5,700 square miles, the Serengeti is breathtaking terrain composed of acacia savannah, grass plains, and dense woodland grouped around kopje rock formations standing in a sea of grass. The kopjes provide shelter to a great variety of plants and animals, from the elusive leopard to the tiny dik-dik. It is estimated that one million animals live in the area with more than one-third of them being wildebeests.
Days 8-11: Zanzibar Island
Put your safari clothing away in exchange for your bathing suit and sandals. Known as the Spice Island, Zanzibar is a completely different side of Africa. Culture and history run deep in Zanzibar. Aromatic smells of cloves, cinnamon, nutmeg, turmeric, black pepper, and lemongrass stimulate the senses. After your wonderful days on safari, relaxing along white sand beaches with palms swaying in the sea breeze brings the adventure to new heights.
Time to dream and relax is a welcome reprieve and so different from how we lead our lives back home. It's especially welcomed after the adventures of your safari experience whereby you have time to relive in your mind all that you saw and experienced. Life is put in perspective and time seems to stand still. Enjoy water activities, go on spice tours, and visit fabled Stone Town—a world Heritage Site. Mostly, Zanzibar is a place to relax and enjoy a completely different side of Africa.
Day 12: International flight onward
Enjoy another relaxing morning and afternoon in Zanzibar (depending on your flight schedule) before transferring to the airport for your onward flight home. What is it about Africa that has gotten under your skin? Certainly it's the gentleness and joy of the people. It is also the vastness and sheer beauty of the land and sea that seems to extend forever in our imagination. Your great story doesn't end as you leave the continent, for Africa has this unexplainable ability to remain deep within us. No wonder so many of us long to return for another meaningful adventure.
All airport arrival welcomes and departure farewells with private transfers
Double occupancy accommodations throughout your African safari in Tanzania
All meals
Multiple wildlife safari game-viewing drives
Services of English-speaking guide and driver
All park and conservancy fees and government taxes
All internal flights (international flights to/from Africa are not included)
Customary tipping of guides
Gratuities to lodge staff
Membership in Flying Doctors Society
Bottled water while on safari
Storage and organization of gear, baggage, and personal effects
Services of our management team in the USA and Africa
Guaranteed departures with just two guests
| | | | |
| --- | --- | --- | --- |
| | Low-Season | Mid-Season | High-Season |
| Adult | | $11,850 | $12,500 |
| Child | | $9,500 | $9,950 |
| Single Supplement | | $2,970 | $3,100 |
What is special about this journey?
Endless Plains & Zanzibar provides an amazing contrast of experience. After your days on safari there is nothing quite like utterly relaxing on white sand beaches with time to reflect on all that has been experienced and dream of things to come. On this special journey you spend four nights in the Serengeti to have extended time at this spectacular destination. Ngorongoro Crater has the largest permanent population of plains game and it is known as the "Eighth wonder of the world." The Serengeti National Park and Ngorongoro Crater contain the highest density of wildlife in the world.
What is the main reason I should choose this journey over the Metamo Classic Journey, "Essence of Tanzania?"
Endless Plains & Zanzibar goes to two national parks instead of the three you visit on Essence of Tanzania. On Endless Plains & Zanzibar you will spend extra time in the Serengeti which allows you to see and explore more of this incredible park. Another aspect is of course that you visit Zanzibar Island. Adding Zanzibar brings another dimension to the experience. For many of our clients who live fast paced lives back home the escape they experience and time to utterly relax allows them to decompress. The Essence of Tanzania is also a fabulous safari and you cover more ground overland. A definite highlight of Essence of Tanzania is it includes Tarangire National Park, which is a fabulous addition to any itinerary. A very popular addition to Essence of Tanzania is to add an extension to Zanzibar Island.
If you had to say what the highlight of the trip will be, what would you say?
There is no telling what is coming around the next baobab tree or termite mound while you are on safari! You will see so many animals you couldn't possibly count them. And Zanzibar Island adds a totally different type of experience to your "safari." At Metamo, we believe some quality from each place we travel to comes with us to the next destination. Our clients come to Africa for adventure, to live their dreams, perhaps to also bring their family and friends into new experiences. In the end, they leave Africa but for many, Africa is not able to leave them.
What kind of accommodations will I be staying in?
Your selection of tented camps and lodges are situated in prime locations, maximizing your safari experience. Secluded and picturesque, they'll immediately transport you to a different state of mind. Each location offers exceptional standards of service. And importantly, they all take conservation seriously. Not only do they make as small a footprint as possible, but they aim to give back to the communities and ecosystems in which they exist. Our selection of hotels and resorts offer luxury accommodations in amazing settings. .
Extensions
For those who don't want to miss out on any aspect of their life-changing African safari.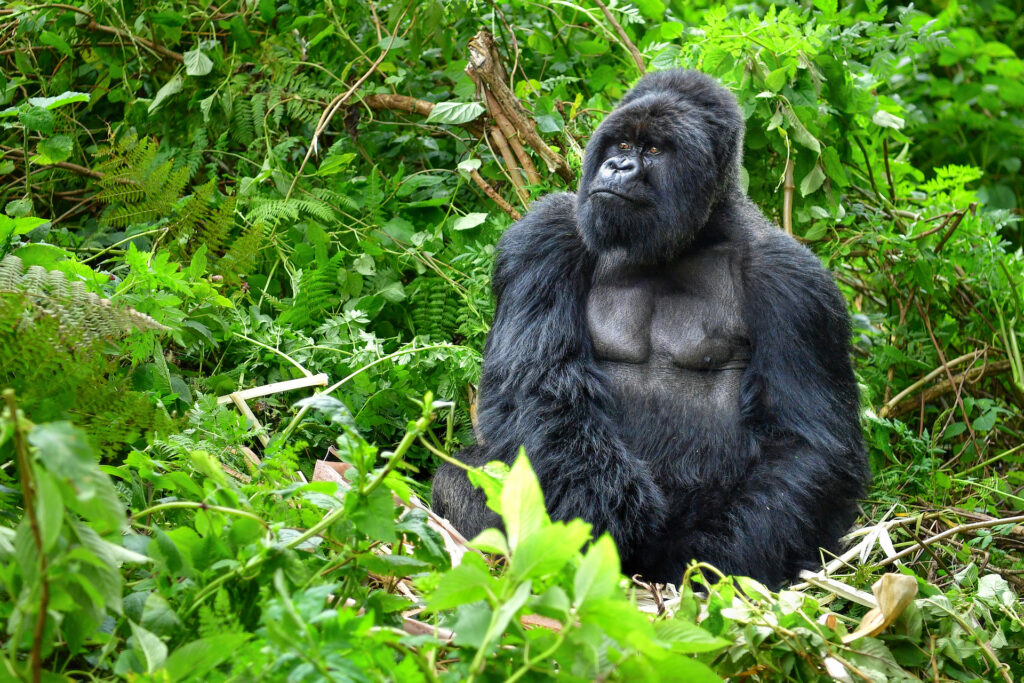 Gorilla Trek Extension
Rwanda
Price
Starting from $4,800
Want us to design a custom journey for you?
Ready to start your adventure?
We're ready to be your guide as you embark on the wondrous discovery of your own great story.