Grandeur of Kenya & Tanzania
For those wanting to experience the best of both Kenya and Tanzania, you've come to the right African journey. Jam-packed, yet with plenty of time to relax and reflect on the incredible experiences in the moment, this trip offers it all in the greatest wildlife parks—with all of their grandeur—in both Kenya and Tanzania.
Explore this journey
Destinations
Kenya
Tanzania
Price
Starting from
$12,600
This incredible African journey brings together the best of both Kenya and Tanzania. It is jam-packed, yet offers plenty of time to relax and reflect on your incredible experiences in the moment. This journey offers it all in the greatest wildlife parks, with all of their grandeur, in both Kenya and Tanzania. In less than two weeks, life will just be positively different as your perspectives change from such an extraordinary journey through wild landscapes, open sky, and adventure around every corner.
Witness the Great Wildebeest Migration
Discover the Big Five
Elephant Safaris in Amboseli
Otherworldly Maasai Village Visit
Iconic views of Kilimanjaro
Multiple wildlife safaris to the greatest wildlife parks in Kenya and Tanzania
Safaris on the crater floor of Ngorongoro
Travel overland through varying topography and experience different cultures
Options for early morning hot air balloon ride, horseback African safari, bush dinners, and more
Lodging in elegant and secluded locations brimming with romantic charm
"But perhaps the most important lesson I learned is that there are no walls between humans and the elephants except those we put up ourselves, and that until we allow not only elephants, but all living creatures their place in the sun, we can never be whole ourselves."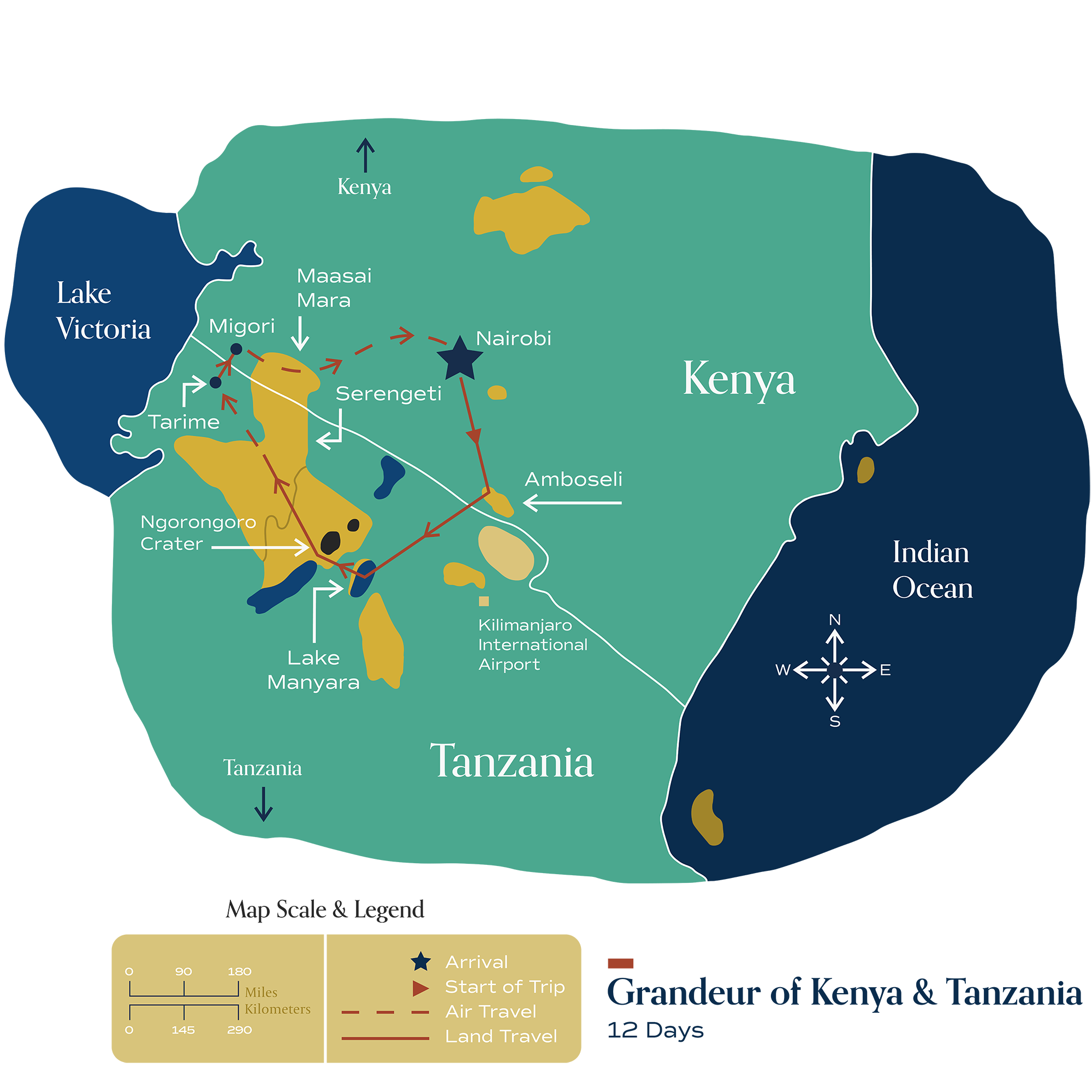 Day 1: Nairobi
Karibu Kenya! (Welcome to Kenya!) Leave the worry and concerns of home far behind. You are soon to experience the instantaneous hospitality and infectious smiles of the people. Arriving this evening, you will receive a warm Metamo welcome with immediate transfer to your charming 5-star hotel and a sumptuous bed awaiting you after your long flight. Already you can feel yourself letting go of the stress and tension of your everyday life.
Days 2-3: Amboseli
Elephant safaris in Amboseli National Park are some of the best in all of Africa. There are moments when you wonder if the elephant is getting too close. She seems to be caught between moving on with her herd and having a closer look at you. She is swaying her trunk and flapping her tail—good signs your driver-guide gently explains to you. It is when she turns and faces you head-on, raises her ears, holds her head up high, points her tail to the side, and raises her trunk and tusks that she is telling you she is not at all happy. Should that happen, which is very possible, your driver-guide will calmly start your safari vehicle in anticipation of a charge—like he has done hundreds of times before. Back at your luxury tented camp—where relaxation and romance dance together in one of the most beautiful settings imaginable—soak up all of the wide-open breathing space that is often lost in our usual day-to-day existence back home.
Amboseli is quintessential Africa with its large elephant herds and views of Africa's highest mountain, Kilimanjaro, looming in the distance. It is also the home of the legendary Maasai Tribe who tend to their cattle and live in villages just on the outskirts of Amboseli's boundaries. Game is easy to spot and the large tuskers are accustomed to vehicles and can come quite close! You may see herds of up to 100 elephants who can be found drinking in one of the permanent springs in the swampland. Keep your eyes trained and you might see lions, cheetahs, warthogs, baboons, jackals, hyenas, and flamingos, among others. Amboseli is the second most visited park in Kenya only after Maasai Mara and it is small enough and flat enough that you will get to explore most of the park. Mostly open country, there is good visibility over the plains although Kilimanjaro—with its base at the Tanzanian border—is often shrouded in clouds. Dawn and dusk are the best times to see the mountain looming in the distance and, with some luck, elephants will pass by at just the right time for you to photograph them with colossal Kilimanjaro as the backdrop. The marshes in Amboseli are permanent and allow for hippos to remain all year. There is prolific birdlife in Amboseli with over 400 species identified.
Day 4: Lake Manyara
Bustling with activity, Mto Wa Mbu is a thriving village that lies at the entrance to beautiful Lake Manyara National Park. The deep rusty brick-red colored earth seems to cover everything, from brightly-colored storefronts to the whistling thorn and acacia trees, making everything seem as though it's from a different time.
Cultures from across Tanzania are represented here and it is fascinating to walk through the village and shop for local crafts. You will need to hone your bargaining skills in Mto Wa Mbu. Lake Manyara National Park is a lovely scenic park famed for its tree-climbing lions, bountiful birdlife, and large numbers of hippos and baboons. Elephants are easily seen and its varied landscape supports other game, including zebras, giraffes, warthogs, impalas, dik-diks, waterbucks, and flamingos, which come to the park intermittently. The park is a combination of mahogany forest, marsh, and grasslands. Manyara is two-thirds water, one-third dry land and home to a spectacular concentration of game. The park is a flash of green amid an otherwise parched landscape. Over 350 species of birds populate the park.
Days 5-6: Ngorongoro
As you wind up to the crater rim, lush green foliage is covered with the same dusting of red earth and is contrasted with the white mist of the clouds that shroud the volcano. Maasai tend their herds. Villagers carry firewood or water on their heads, instinctively keeping an eye out for an elephant or other animals that could come out of the bush at any moment. Arriving at the rim you get out of the vehicle and look out over the expanse of the crater below. You are gazing at the largest collapsed caldera in the world. Spirits are lifted by the beauty and grandeur of this place. A moment frozen in time just before the exciting wildlife encounters that await you. The animals are only specks for now, nearly 2,000 feet below. The perspective is foreign and gives us a sense of timelessness.
Drive down the 1900-foot crater wall from the rim of this spectacular extinct volcano. Here you will find Africa's largest permanent concentration of wildlife. Ngorongoro has been referred to as the "Eighth Wonder of the World." Ngorongoro towers above the Northern Serengeti Plain and it is celebrated as containing some of the most magnificent scenery in the world. Ngorongoro's 105-square-mile crater is the largest unbroken crater on Earth and is packed with just about every species of wildlife found in East Africa. It is possible that we will see the Big Five—all of them—in one day. Large plains game permanently inhabit the area and the scenery is sensational. Some 30,000 animals live in the crater and, because the grasses are short, game is easily spotted and can often be approached quite closely. It is also one of the few parks in Africa where rhinos are relatively easy to locate. Enjoy the awe-inspiring views from your lodge of the crater below (weather permitting), spying herds of buffalo and wildebeest that look like ants from the distance. You quickly realize that you are in a very special place.
Days 7-8: Serengeti
The Serengeti has more large animals than any other protected area on earth. It is perhaps the most impressive wildlife sanctuary in the world. En route, you cross the expanse of the Ngorongoro Conservation Area, stopping at Olduvai Gorge where Mary Leaky discovered the remains of Australopithecus Homo Habilis and Homo Erectus. Contemplating the breath of time of man's evolution is humbling, if not incomprehensible. As you walk down to the gorge floor, every step makes you feel like you are walking backward into primordial time. It is hard for us to appreciate time beyond two or three generations, much less the millions of years we are witnessing being unraveled before us as we walk down to the excavated bottom of Olduvai Gorge.
On the Serengeti Plain live an estimated 2,500 lions and there are more cheetahs here than anywhere else in Africa. Hyenas, wildebeests, zebras, gazelles, ostriches, hippos, and other animals can be seen in abundance. Covering more than 5,700 square miles, the Serengeti is breathtaking terrain composed of acacia savannah, grass plains, and dense woodland grouped around kopje rock formations standing in a sea of grass. The kopjes provide shelter to a great variety of plants and animals, from the elusive leopard to the tiny dik-dik. It is estimated that one million animals live in the area with more than one-third of them being wildebeests, making it arguably the greatest wildlife theater on earth. Back at your luxury tented camp—where relaxation and romance dance together in one of the most beautiful settings imaginable—soak up all of the wide-open breathing space that is often lost in our usual day-to-day existence back home.
Days 9-11: Maasai Mara
Serengeti and Maasai Mara are the same contiguous plain—12,000 square miles of natural beauty and drama. The human invention of borders is an obstacle for us to travel freely across the park. The croc-infested waters of The Mara River is their natural obstacle. While 1.5 million wildebeests and zebras don't know the difference between the countries, they do know on one side, depending on the time of the year, the grass is greener. And they desperately want to get there even more than we want to watch them try. While we do not have to worry about the crocs, we still need to get to Masai Mara today. We will be combining overland time with a couple of short hopper flights. Destination: Kenya's most famous game park, Maasai Mara.
The park is without a doubt one of the greatest safari destinations in Africa and you have the best seats in the house. Your classic and intimate safari camp is ideally placed for all that is to come. Game drives in the Maasai Mara are unforgettable due to the abundance of wildlife and spectacular landscapes. At your luxury tented camp—where relaxation and romance dance together in one of the most beautiful settings imaginable—soak up all of the wide-open breathing space that is often lost in our usual day-to-day existence back home. Travelers can expect to encounter large numbers of animals year-round, with big herds of elephants, buffalos, and other plains game. It is also common to see predator interaction. Maasai Mara—a vast savanna grassland, dotted with acacia trees, with rolling hills and breathtaking panoramas in every direction—is one of the best places in all of Africa to spot the Big Five. "The Mara" is well-known for its great herds of plains game, like black-maned lions, leopards, cheetahs, and elephants, as well as virtually every other kind of animal found in Kenya. Between July and October, millions of zebras and wildebeests make the dangerous trek across the Maasai Mara in search of new grazing territory. Culturally, the reserve is extraordinary because of the proud and colorful Maasai who inhabit the area. Highlights during our time here include phenomenal game viewing, a walk along the banks of The Mara River—where hippos and crocodiles are often seen in great numbers—and exploring the optional activities in The Mara which include bush dinners and sundowners, visits to a local school and other cultural experiences, and of course the legendary early morning hot air balloon safaris over The Mara, among others.
Day 12: International flight onward
The vibrant aroma from the Kenyan coffee brought to your room starts your morning off just right. Entering your safari vehicle, set off for your last safari basking in the golden light that seems to permeate everything, especially your spirits. A lioness glows in the morning sun. Perhaps she has already made a kill or, more likely, she is scanning the horizon for movement as there are mouths to feed. The giraffes once again make you wonder and the elephants make you smile. As you depart this evening, you reflect on the grandeur of this amazing journey of unrestrained adventure and romance. You will take something very special with you from Africa but Africa will keep a part of you and you will never be the same. Until your return.
All airport arrival welcomes and departure farewells with private transfers
Double occupancy accommodations
All meals
Wildlife safari game-viewing drives
Services of English-speaking guides and drivers
All park and conservancy fees
Membership in Flying Doctors Society
All internal flights
Customary tipping of guides
Gratuities to lodge staff
Bottled water while on safari
Storage and organization of gear, baggage, and personal affects
Services of our management team in the USA and Africa
Guaranteed departures with just two guests
Grandeur of Kenya & Tanzania dates customized around your ideal timeframe
| | | | |
| --- | --- | --- | --- |
| | Low-Season | Mid-Season | High-Season |
| Adult | $12,600 | $13,960 | $15,400 |
| Child | $9,550 | $10,800 | $11,300 |
| Single Supplement | $3,000 | $3,500 | $3,800 |
Why should I consider combining both Kenya and Tanzania?
The story you will be engaged in is one far larger than can be put into words. Arguments are many in terms of which of the countries offer the greatest wildlife experiences. There's a good way to settle it: go to both Kenya and Tanzania since you're in the region! Kenya is famed for its scenic landscapes and vast wildlife preserves. Tanzania has the largest animal population density of any country on the planet. We have taken the best of Kenya and Tanzania and placed them into one incredible adventure.
Will I get to experience more than the wildlife parks?
Yes. There is an opportunity in every moment to learn something new about life and the wide-open spaces. The amazing contrasts and the gentleness of the people open up possibilities. In many areas you pass through, you will be surprised at how soon you feel removed from the fast-paced world back home. It is refreshing to see people doing things the way they've been done since time immortal. To witness the calm rhythm of life as people go about their daily lives with a grace that we don't see so often anymore does a lot to revive our sense of hope. Some quality from each place we travel to comes with us to the next destination.
What if there is too much time between safaris? What is there to do at the lodges or in our tented camps?
Life at home is busy enough and Metamo understands that you need to be recharged—and an enlightened experience such as this does just that. We pace your adventure to be a wonderful combination of excitement on safari with time to sit under an acacia tree canopy with a good book with a nap to follow. The worries and concerns of home are in the distant past. You can always engage in an optional activity like a nature walk, horseback safari, or hot air balloon ride.
Why is this itinerary for me?
The "Grandeur of Kenya and Tanzania" covers a lot of safariland at its best. If you like movement, covering a lot of ground and exploring different cultures and topographies, this is a great tour for you. The "Grandeur of Kenya and Tanzania" is a source of inspiration as you travel through and see so much of breathtaking East Africa. We leave plenty of time at the lodges and camps to decompress. By traveling overland you end up having a full experience with the land, culture, and wildlife of East Africa.
What would you say are the main highlights of this Metamo experience?
You will have incredible wildlife safaris in some of the greatest parks in East Africa. You will be immensely happy that you have pursued your dreams and traveled to Africa for this enlightening experience. You will know you had the guts to break away from the excessive busyness in your life to connect more deeply with life's greater meaning. You will have moved beyond your comfort zone to let our expert guides provide an experience like no other. Many of our clients have said it is the first time in their adult life that they didn't have to worry about a thing and could completely decompress.
Extensions
For those who don't want to miss out on any aspect of their journey through Africa.
Ready to start your adventure?
We're ready to be your guide as you embark on the wondrous discovery of your own great story.