Duration
5 days / 4 nights
Price
Starting from
$5,480
Your days on safari to follow add depth to your great story of climbing Kilimanjaro. You are so close to the Serengeti, why not extend your adventure and explore and discover even more?You will see thousands of animals in landscapes as big as your imagination.
Endless plains of the Serengeti
Multiple safari game drives
Largest concentration of lions of any park in the world
Chance to see the Great Wildebeest Migration
Discover the Big Five
Safari on the floor of Ngorongoro Crater
Options for hot air balloon rides over the plains, bush dinners, and so much more
Meet the otherworldly Maasai Warriors
Stay in secluded and elegant luxury tented camps in optimal locations
"There is something about safari life that makes you forget all your sorrows and feel as if you had drunk half a bottle of champagne — bubbling over with heartfelt gratitude for being alive."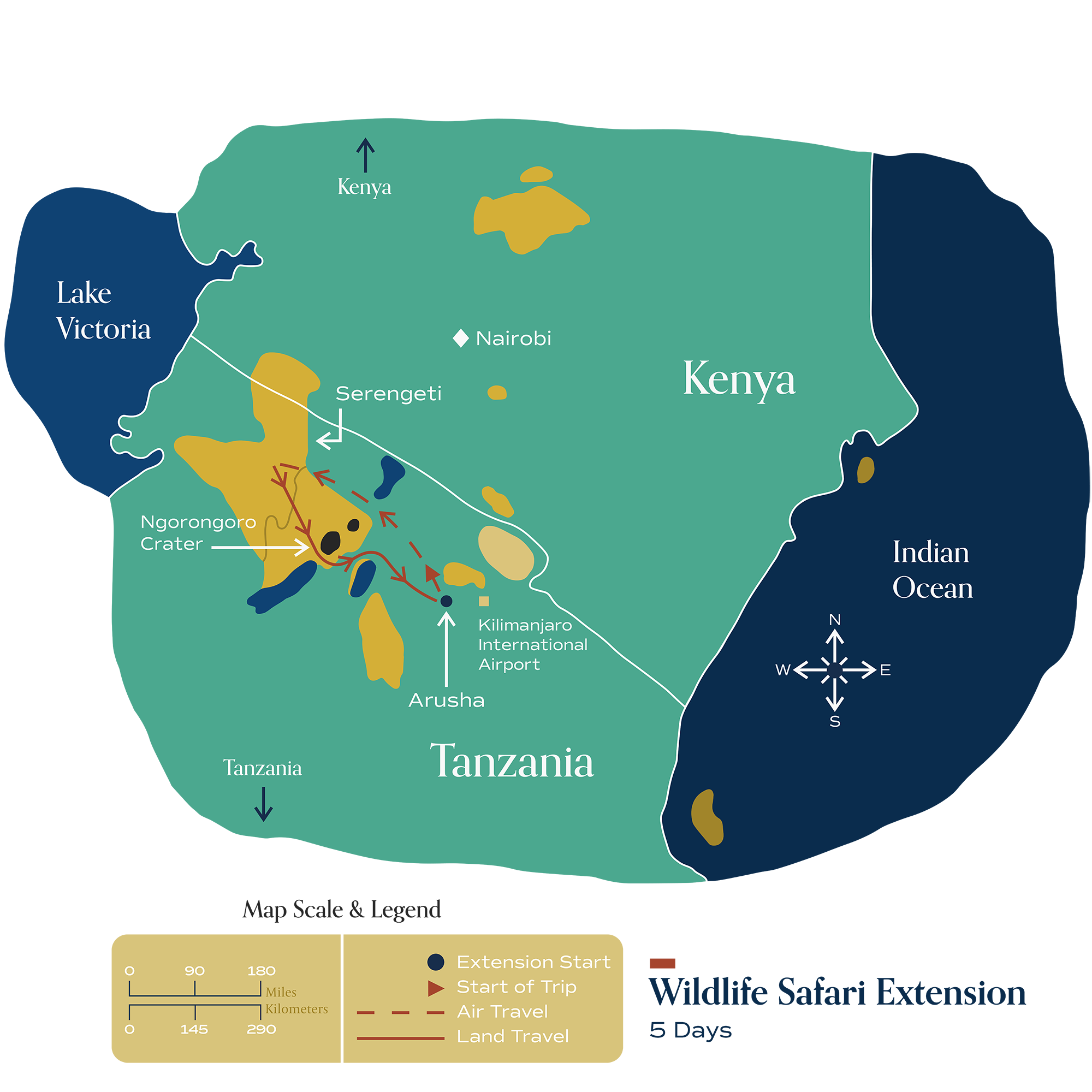 Days 1-2: Serengeti
You are filled with a sense of accomplishment after your time on Kilimanjaro and the joy that your adventure is not yet over! Fly deep this morning into Serengeti National Park. There is no predicting what will happen next on your epic life-changing adventure and you have the best seats in the house for unparalleled game viewing opportunities. The Serengeti is perhaps the most impressive wildlife sanctuary in the world and has more large animals than any other protected area on earth. On the Serengeti Plain live an estimated 2,500 lions and there are more cheetahs here than anywhere else in Africa. Hyenas, wildebeests, zebras, gazelles, ostriches, hippos, and other animals can be seen in abundance. Back at your luxury tented camp—where relaxation and romance dance together in one of the most beautiful settings imaginable—soak up all of the wide-open breathing space that is often lost in our usual day-to-day existence back home.
Covering more than 5,700 square miles, the Serengeti is breathtaking terrain composed of acacia savannah, grass plains, and dense woodland grouped around kopje rock formations standing in a sea of grass. The kopjes provide shelter to a great variety of plants and animals, from the elusive leopard to the tiny dik-dik. It is estimated that one million animals live in the area with more than one-third of them being wildebeests, making it arguably the greatest wildlife theater on earth.
Days 3-4: Ngorongoro
The Safari doesn't stop as you leave the Serengeti National Park bound for Ngorongoro Crater. Ngorongoro is the largest intact caldera (collapsed volcano) in the world and has the highest concentration of animals in Africa. Maasai Warriors wear bright red shawls and stand out against the deep browns and earthly greens of the landscape. You may see young boys with their faces painted white wearing black shawls in groups of three or four walking the roadside having recently experienced a rite of passage. En route to Ngorongoro, stop at Olduvai Gorge and walk to the bottom where Mary Leaky discovered the remains of Australopithecus Homo Habilis and Homo Erectus. Contemplating the breath of time of mankind's evolution is humbling, if not incomprehensible. As you walk down to the gorge floor, every step makes you feel like you are walking backward into primordial time. It is hard for us to appreciate time beyond two or three generations, much less the millions of years we are witnessing being unraveled before us as we walk down to the excavated bottom of Olduvai Gorge.
As you wind up to the crater rim lush green foliage is dusted with the same mist of the brick-red earth and contrasts with the white mist of the clouds that shroud the volcano. Maasai tend their herds. Villagers carry firewood or water on their heads, instinctively keeping an eye out for an elephant or other animals that could come out of the bush at any moment. Arriving at the crater rim you get out of the vehicle and look out over the expanse of the crater below. This is the largest collapsed caldera in the world. Spirits are lifted by the beauty and grandeur of this place. A moment frozen in time just before the exciting wildlife encounters that await you. The animals are only specks for now, nearly 2,000 feet below. The perspective is foreign and gives us a sense of timelessness.
Drive down the 1900-foot crater wall from the rim of this spectacular extinct volcano. Here you will find Africa's largest permanent concentration of wildlife. Ngorongoro has been referred to as the "Eighth Wonder of the World." It towers above the Northern Serengeti Plain and it is celebrated as containing some of the most magnificent scenery in the world. Ngorongoro's 105-square-mile crater is the largest unbroken crater on Earth and is packed with just about every species of wildlife found in East Africa. It is possible that we will see the Big Five—all of them—in one day. Large plains game permanently inhabit the area and the scenery is sensational. Some 30,000 animals live in the crater and, because the grasses are short, game is easily spotted and can often be approached quite closely. It is also one of the few parks in Africa where rhinos are relatively easy to locate. Enjoy the awe-inspiring views from your lodge of the crater below (weather permitting), spying herds of buffaloes and wildebeests that look like ants from the distance.
Day 5: International flight onward
Depart down the escarpment of the Great Rift Valley bound for Arusha and your onward flight. En route pass through Mto Wa Mbu, a thriving village that lies at the entrance to beautiful Lake Manyara. As we pass through different topographies and cultures there is a sense of distant recollection from our own distance past. You will take something very personal away from Africa but this incredibly magical place also keeps a piece of us. Africa has always been a journey of self-discovery.
All airport arrival welcomes and departure farewells with private transfers
Double occupancy accommodations
All meals
Wildlife safari game-viewing drives
Services of English-speaking guides and drivers
All park and conservancy fees

Flight from Arusha to Serengeti 
Customary tipping of guides
Gratuities to lodge staff
Bottled water while on safari
Storage and organization of gear, baggage, and personal affects
Services of our management team in the USA and Africa
Guaranteed departures with just two guests
Low-Season
Mid-Season
High-Season
Adult
$

5,480

$

6,260

$

6,780

Child
$

2,980

$

3,540

$

3,960

Single Supplement
$

1,400

$

1,550

$

1,700
Why have you combined climbing Kilimanjaro with going on a safari to follow, and why is the safari at the end?
To the second part of your question: Kilimanjaro will loom larger and larger in your mind the closer you get to the climb. We have placed the safari at the end so that you will completely be present in it instead of constantly anticipating the climb. As to the first part of the question: we think you know the answer already but it only makes sense to experience a quintessential African safari since you are there. After your success climbing the mountain, the safari will be like one long celebration and icing on the cake as you travel through arguably the two greatest wildlife parks in the world.
What kind of animals will I see on safari after the climb?
The list is so long and the safari experience will be rich with wildlife and unexpected sightings. Ngorongoro Crater alone has 30,000 large mammals that live permanently on the 100 square mile crater floor. The Serengeti has the thickest density of any wildlife park in the world. But you will also be passing through quintessential Africa and witness so much more that can be put into words.
Why is Metamo different from other safari companies?
We are not selling a product. We are selling an experience. We want to be a source of inspiration for searching minds and we care a great deal about you. The Metamo experience is ultimately about transformation and we are asking you to step outside of your comfort zone to allow for the change of perspective that comes from travel to Africa. Our commitment is centered on making sure that you and your family and friends have the greatest and safest adventure possible. Many of our clients have said it is the first time in their adult life that they didn't have to worry about a thing and could completely rejuvenate and expand their personal horizons.
Recommended Journeys
Pair this extension with one of these journeys for an adventure you won't ever forget.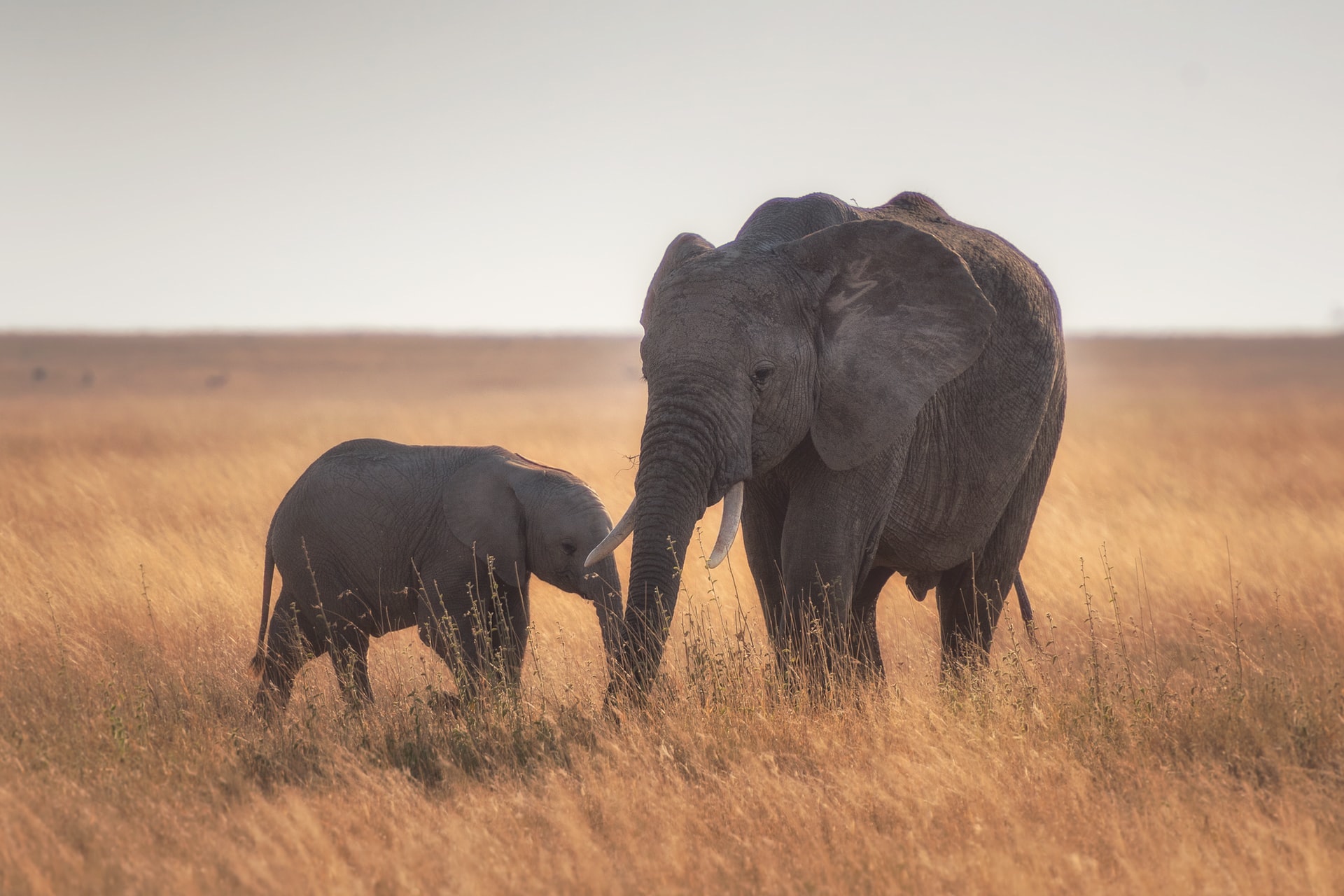 Grandeur of Kenya & Tanzania
Kenya & Tanzania
Price
Starting from $12,600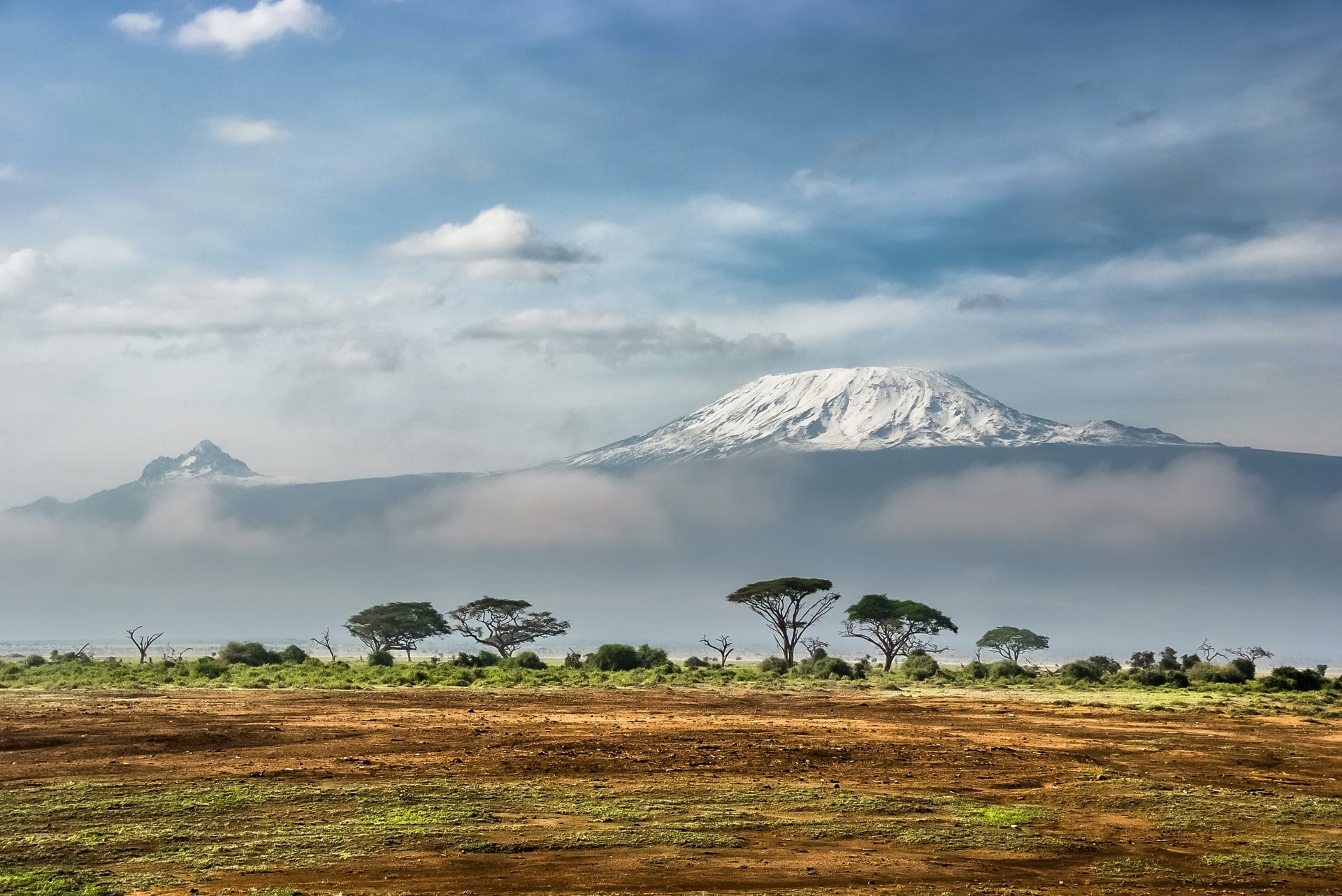 Above the Shadow of the Giant
Tanzania
Price
Starting from $5,700
Let's design a custom journey just for you. →
Ready to start your adventure?
We're ready to be your guide as you embark on the wondrous discovery of your own great story.