Essence of Tanzania
The Serengeti represents the essence of Tanzania's wild realm of extraordinary landscapes and contains the greatest concentrations of wildlife in the world. Tarangire National Park and Ngorongoro Crater are also spectacular game viewing destinations. Experience your African safari in Tanzania and see the authentic Africa up close.
Explore this journey
Price
Starting from
$8,520
The wildlife parks you visit, the secluded and picturesque places you stay, and the experiences you will have on this exciting journey represent all that is spectacular about the Tanzanian safari. Tanzania is a wild realm of extraordinary landscapes and contains the greatest concentrations of wildlife in the world, including the greatest wildlife spectacle on earth—the Great Migration of Wildebeest on the Serengeti. Famous for its diversity of wildlife, Tarangire National Park has the largest species of African animals, including large herds of elephants. The groundwater forest of Lake Manyara supports myriad creatures, including tree-climbing lions. Ngorongoro Crater is the largest intact caldera in the world with over 30,000 mammals on the floor of this extinct volcano.
Luxurious accommodations in optimal locations brimming with romantic charm
The largest concentration of lions in Africa
Large elephant herds of Tarangire
Tree-climbing lions of Manyara
Chances to discover the Big Five and Great Migration
Otherworldly Maasai village visit
Safaris on the crater floor of Ngorongoro, the "Eighth Wonder of the World"
Abundant wildlife on the endless Serengeti Plains
Options for hot air balloon rides over the plains and a champagne breakfast, bush dinners, and more
"To witness that calm rhythm of life revives our worn souls and recaptures a feeling of belonging to the natural world. No one can return from the Serengeti unchanged, for tawny lions will forever prowl our memory and great herds throng our imagination."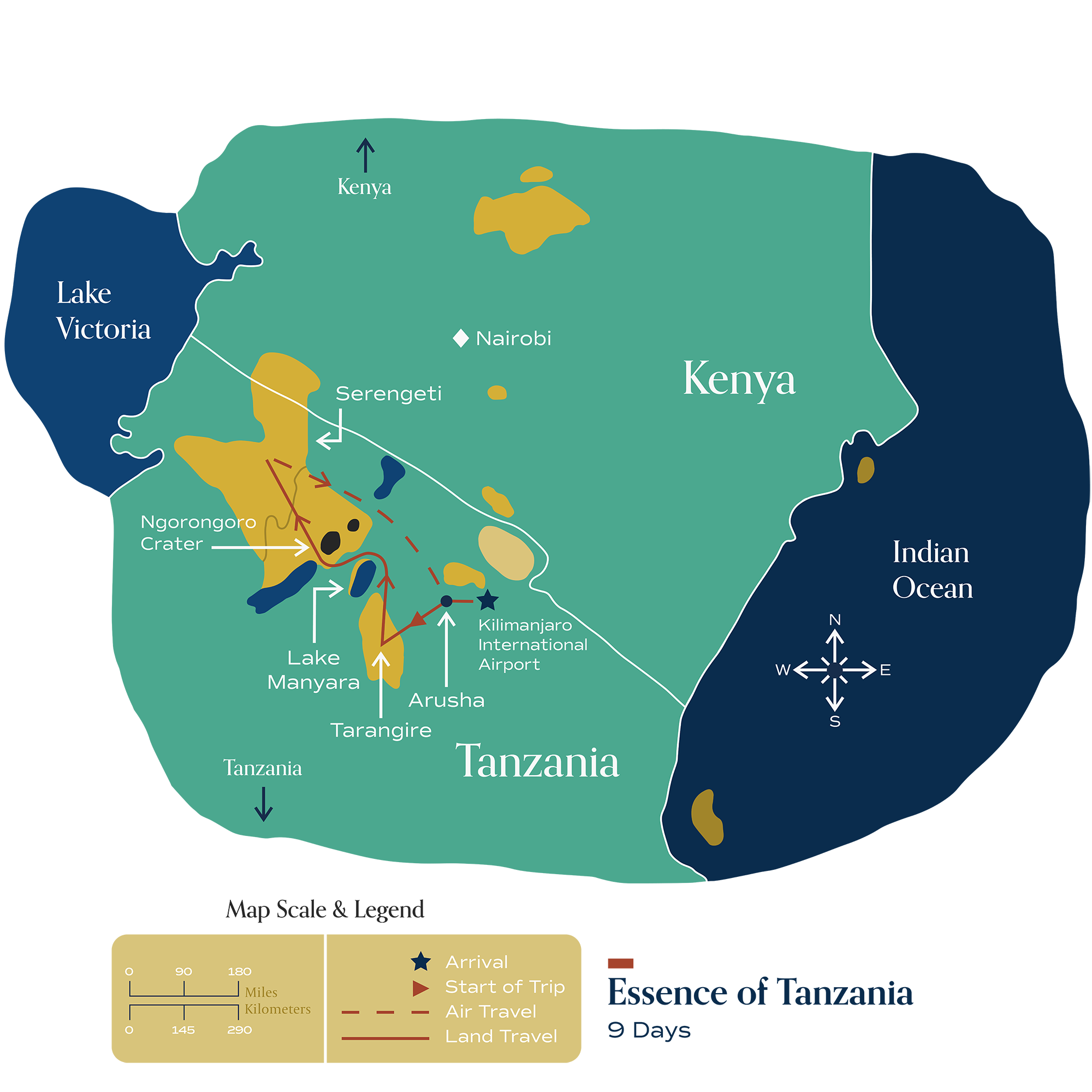 Days 1: Arrive in Arusha
Arriving in Tanzania's capital city, Arusha, receive a warm Metamo welcome with an immediate transfer to your delightful hotel and sumptuous bed waiting for you after your long flight. From the moment you arrive, you will begin to enjoy the very best of Tanzanian hospitality and service—the quintessential experience of Africa.
Days 2-3: Tarangire
It is difficult to describe the feeling when you first get inside your safari vehicle and hit the open road under endless skies. Fresh air blows through your hair and you relax completely. It is amazing how quickly balance comes back into life when we hit the open safari dirt tracks. Tarangire National Park is situated in a vast valley offering wonderful views over the savannah best known for its elephants and iconic baobabs that dot the rolling hills. Tarangire boasts Tanzania's largest herds of elephants. The park is one of the most beautiful in Tanzania and is second only to Ngorongoro in its density of Tanzanian wildlife. Relaxation and romance dance together in a beautiful setting—soak up all of the wide-open breathing space that is often lost in our usual day-to-day existence back home.
There are animals including lions, leopards, giraffes, impalas, gazelles, waterbucks, buffaloes, and zebras, which can often be seen in abundance. The name of the park originates from the Tarangire River that crosses through the park and is the lifeline for wild animals during dry seasons. Tarangire National Park is the sixth-largest national park in Tanzania and it is located in the Manyara Region. Thousands of animals migrate to Tarangire from Manyara National Park during the dry season (June through October), although visiting Tarangire during the rest of the year is a great experience. There are over 500 bird varieties—the most in one habitat in the world.
Days 4-5: Ngorongoro Crater
Ernest Hemingway said it best, "I never knew of a morning in Africa when I woke up that I was not happy." Enjoy a cup of the particularly flavorful Tanzanian coffee and breakfast before jumping in your safari vehicle bound for Ngorongoro. As you wind up to the crater rim lush green foliage is dusted with brick-red earth and contrasts with the white mist of the clouds that shroud the volcano. Maasai tend their herds. Villagers carry firewood or water on their heads, instinctively keeping an eye out for an elephant or other animals that could come out of the bush at any moment. Arriving at the crater rim you get out of the vehicle and look out over the expanse of the crater below. This is the largest collapsed caldera in the world. Spirits are lifted by the beauty and grandeur of this place. A moment frozen in time just before the exciting wildlife encounters that await you. The animals are only specks for now, nearly 2,000 feet below. The perspective is foreign and gives us a sense of timelessness.
Drive down the 1900-foot crater wall from the rim of this spectacular extinct volcano. Here you will find Africa's largest permanent concentration of wildlife. Ngorongoro has been referred to as the "Eighth Wonder of the World." Ngorongoro towers above the Northern Serengeti Plain and it is celebrated as containing some of the most magnificent scenery in the world. Ngorongoro's 105-square-mile crater is the largest unbroken crater on Earth and is packed with just about every species of wildlife found in East Africa. It is possible that we will see the Big Five—all of them—in one day. Large plains game permanently inhabit the area and the scenery is sensational. Some 30,000 animals live in the crater and, because the grasses are short, game is easily spotted and can often be approached quite closely. It is also one of the few parks in Africa where rhinos are relatively easy to locate. 
En route to Ngorongoro, stop at Lake Manyara National Park for a short safari and visit Mto Wa Mbu, a thriving village that lies at the entrance to beautiful Lake Manyara National Park. The deep rusty brick-red colored earth seems to dust everything. It lightly covers the brightly colored storefronts and the whistling thorn and acacia trees, making everything seem from a different time. Cultures from across Tanzania are represented here and it is fascinating to walk through the village and shop for local crafts. You will need to hone your bargaining skills in Mto Wa Mbu. Lake Manyara National Park is a lovely scenic park famed for its tree-climbing lions, bountiful birdlife, and large numbers of hippos and baboons. Elephants are easily seen and its varied landscape supports other game, including zebras, giraffes, warthogs, impalas, dik-diks, waterbucks, and flamingos, which come to the park intermittently. The park is a combination of mahogany forest, marsh, and grasslands. Manyara is two-thirds water, one-third dry land and home to a spectacular concentration of game. The park is a flash of green amid an otherwise parched landscape. Over 350 species of birds populate the park.
Days 6-8: Serengeti
The morning light is brilliant as you cross the expanse of the Ngorongoro Conservation Area bound for the Serengeti, home to magnificent creatures and arguably the greatest wildlife theater on earth. Stop at Olduvai Gorge en route (an optional activity) and walk to the bottom where Mary Leaky discovered the remains of Australopithecus Homo Habilis and Homo Erectus. Contemplating the breath of time of mankind's evolution is humbling, if not incomprehensible. As you walk down to the gorge floor, every step makes you feel like you are walking backward into primordial time. It is hard for us to appreciate time beyond two or three generations, much less the millions of years like we are witnessing being unraveled before us as we walk down to the excavated bottom of Olduvai Gorge. 
On the Serengeti Plain lives an estimated 2,500 lions and there are more cheetahs here than anywhere else in Africa. Hyenas, wildebeests, zebras, gazelles, ostriches, hippos, and other animals can be seen in abundance. Covering more than 5,700 square miles, the Serengeti is breathtaking terrain composed of acacia savannah, grass plains, and dense woodland grouped around kopje rock formations standing in a sea of grass. The kopjes provide shelter to a great variety of plants and animals, from the elusive leopard to the tiny dik-dik. It is estimated that one million animals live in the area with more than one-third of them being wildebeests. Serengeti is perhaps the most impressive wildlife sanctuary in the world. The park has more large animals than any other protected area on earth.
Day 9: International flight onward
The morning birds sing and the golden light permeates everything, including your spirit—as it has done throughout this expedition. Say your reluctant farewells to your guides and lodge staff before flying back to Arusha. As you depart Tanzania this evening, you reflect on the essence of this incredible journey of unrestrained adventure and romance. What is it about Africa that has gotten under your skin as happens to so many of us? Certainly, it's the gentleness and infectious joy of the people. It is also the vastness and sheer beauty of the land that seems to extend forever. You came to Africa for adventure, to live your dreams, to lead your family and friends to new experiences. In the end, you leave Africa but it is not able to leave you. It gets inside your heart, mind, and soul. This safari adventure has been a reflection of your imagination and we are immensely happy to have been your guide.
All airport arrival welcomes and departure farewells with private transfers
Double occupancy luxury accommodations throughout
All meals
Wildlife safari game-viewing drives
Services of English-speaking guides and drivers
All park and conservancy fees
Membership in Flying Doctors Society
All internal flights
Customary tipping of guides
Gratuities to lodge staff
Bottled water while on safari
Storage and organization of gear, baggage, and personal affects
Services of our management team in the USA and Africa
Guaranteed departures with just two guests
| | | | |
| --- | --- | --- | --- |
| | Low-Season | Mid-Season | High-Season |
| Adult | $8,520 | $9,040 | $10,680 |
| Child | $6,780 | $7,670 | $8,300 |
| Single Supplement | $2,100 | $2,300 | $2,700 |
What is special about this journey?
We are meant to live in a magical and breathtaking world and Tanzania is the essence of that. The parks that you will visit are spectacular and you are entering a magnificent story with so much personality. The incredible creatures we come across have a lot to teach us. The parks contain the highest density of wildlife in the world. But most important, it allows you to pursue your dreams and bring family and friends together for the adventure of a lifetime, all in just nine days on the ground in Africa.
What is the main reason I should choose this journey over Essence of Kenya?
Not an easy answer. For some, the main reason is whether the migratory animals—the hundreds of thousands of zebras and wildebeests that cross between Tanzania and Kenya every year—have a better chance of being in Kenya (July through October) or Tanzania (the rest of the year, with some overlap) during the time of year you are planning on coming. That being said, ultimately it doesn't matter. You will see thousands of animals moving about freely in their natural environment as they have done for eons. The migration never stops. What matters is that you have made the decision to come to Africa and live your dreams. If you are also bringing friends and family, you will have paved the way for others to come who would not otherwise have imagined traveling to Africa.
If you had to say what the highlight of the trip will be, what would you say?
Some quality from each place we travel to comes with us to the next destination. You came to Africa for adventure, to live your dreams, perhaps to also lead your family and friends to new experiences. In the end, you leave Africa but it is not able to leave you. It gets inside your heart, mind, and soul. Ask anyone who has been there. Perhaps it satisfies a deep desire to be completely free. Perhaps it's the animals or the hospitality of the people of Africa. Whatever it is, it brings us to a place between what was and what will be, where we find a more enlightened state that we all crave.
How much will I miss out if I don't extend my journey with an extension to Zanzibar?
Ultimately, life is too short for a few extra days to make a difference in the big scheme of things. The main thing is that you live your dreams. Only in that way, will you look back without regret.
What do you think will be the best part of the adventure?
Waking up every day happy and carrying Africa with you for the rest of your life. Many people say that it is a peak experience of life.
Extensions
For those who don't want to miss out on any aspect of their life-changing African safari.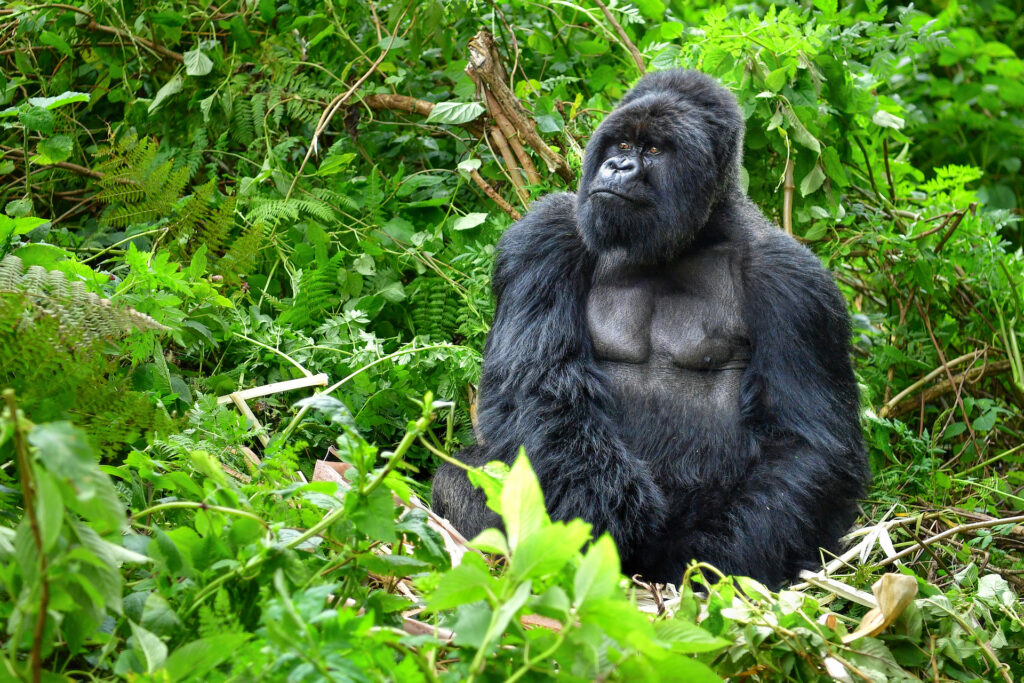 Gorilla Trek Extension
Rwanda
Price
Starting from $4,800
Want us to design a custom journey for you?
Ready to start your adventure?
We're ready to be your guide as you embark on the wondrous discovery of your own great story.