The Great Kenyan Embrace
"The Great Kenyan Embrace" takes you through the best of Kenyan travel. Wander just far enough off the beaten track to gain an enlightened perspective and experience a different side of Africa. We open doors for you to adventures that others miss. Wrap your arms around this magnificent story as your courage and imagination launch into the wild realm of adventure, wildlife safaris, and cultural exploration in untamed and extraordinary landscapes.
Explore this journey
Price
Starting from
$10,960
"The Great Kenyan Embrace" takes you through the best of Kenyan travel. This incredible 12-day itinerary embraces being off the grid as you explore cultures and destinations that most travelers to Kenya miss.  We get you behind the scenes where you will gain new insights and enough stories to last a lifetime! From the remote and grand Laikipia Plateau to exotic Lamu Island, from little known Lukenya to Kenya's most famous park, Maasai Mara, you will be amazed at all you see, do, and experience.  Launch yourself into the wild realm of adventure, wildlife safaris, and cultural exploration in untamed and extraordinary landscapes.
Great depth of experience off the beaten path
Walking safaris in Laikipia
Chances to discover the Big Five and the Great Wildebeest Migration
Witness thousands of animals on multiple game drives
Options for hot air balloon, horseback, camel safaris, bush dinners, and other stunning Kenya travel opportunities 
Enter the time machine of Lamu Island, Kenya's oldest living town
Take a dhow ride around mangrove islands with a fresh-fish bbq lunch to follow
Experience the warm hospitality of the Kenyan people
Otherworldly Maasai culture
Stunning lodging in prime locations
"The biggest lesson from Africa was that life's joys come mostly from relationships and friendships, not from material things. I saw time and again how much fun Africans had with their families and friends and on the sports fields; they laughed all the time."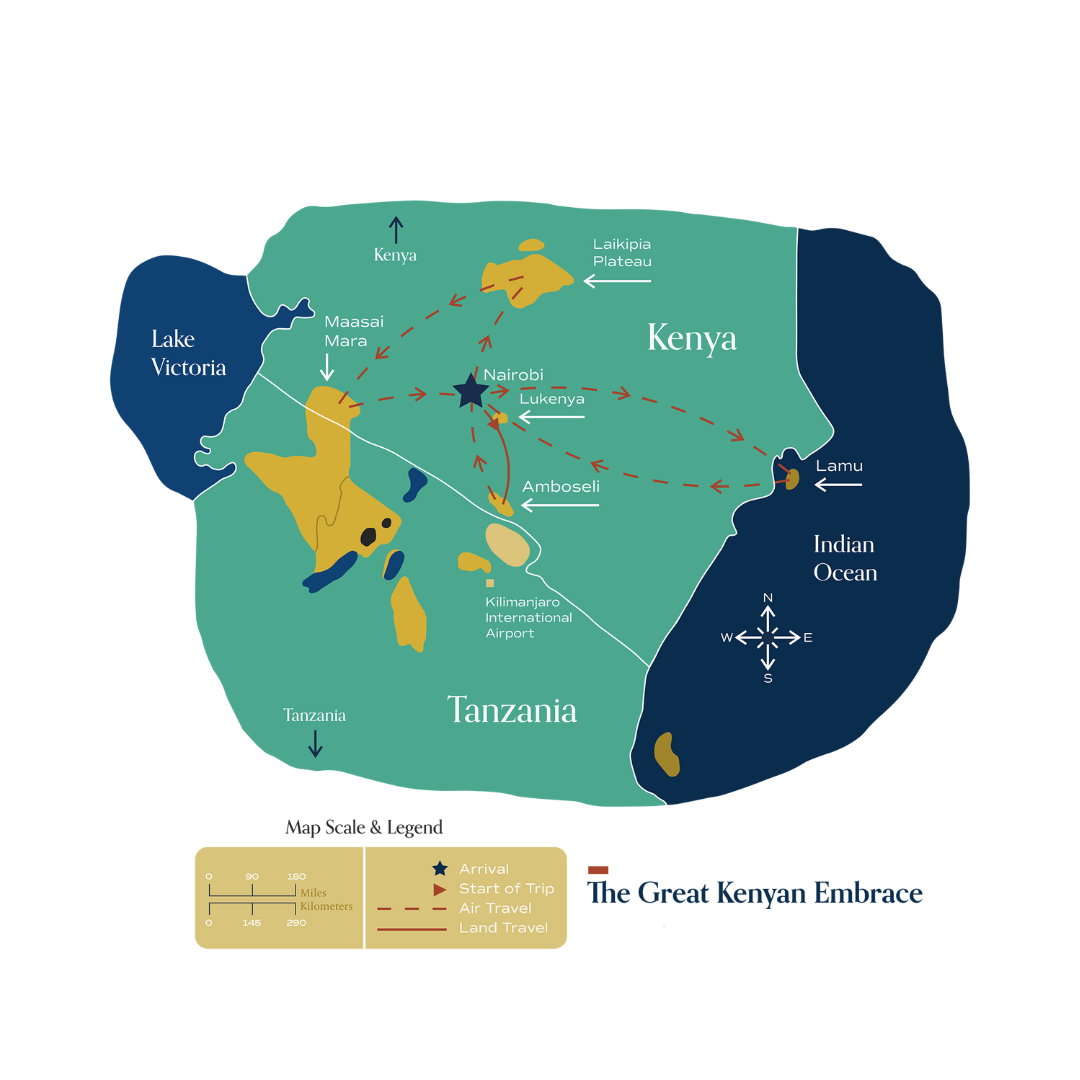 Day 1: Arrive in Nairobi & Lukenya
We will bring you to the Lukenya Getaway at the foot of the Lukenya hills, just 30 minutes from the airport and a world away from bustling Nairobi. You are soon to experience the instantaneous hospitality and infectious smiles of the people. Already the stress caused by the pace of the western world is behind you. Karibu Kenya! (Welcome to Kenya!)
Day 2: Lukenya
Beautiful gardens with flowering jacarandas and singing morning birds make the morning come alive. The light is stunning so close to the equator. You hear singing and laughter mixed in with the sublime morning sounds and fresh air in what is known as the Lukenya Getaway. It is so refreshing to be free of worry for the first time in so long. Lukenya provides a different experience with Africa than most travelers to Kenya get to enjoy. Walking through the village storefronts you will also pass by a local university where students hop on the back of motorcycles to take trips into town.
Meet with the housemothers of a local children's home to learn about the challenges of running a center for abandoned children, including the efforts to reunite children with a loved one. Continue your guided walk in the area before returning to the Getaway for lunch and a siesta. In the late afternoon, walk through the countryside down dirt tracks with your guide to a rustic local watering hole, Mike's Place, for drinks, relaxation and a glorious sunset. Walking home under the radiant and vibrant night sky, you will see stars as you've never seen before, and they will guide you back to the Getaway for dinner.
Days 3-5: Lewa Wildlife Conservancy, Laikipia Plateau
The majesty of Africa is all around you in this place of timeless beauty. You feel inconspicuously small in this wide-open space among the other creatures who you watch with awe. Located on the vast Laikipia plateau, one of Kenya's biggest stretches of wilderness and Africa's most successful wildlife conservation area, Laikipia has more endangered species than anywhere else in all of East Africa. Lewa Conservancy is one of the lesser-known wildlife areas in Kenya and the ability to take walking safaris is one of the factors that makes it a very special safari destination. After a walking or camel safari, you will enjoy the feeling of unrestrained adventure and romance of the African wild. A safari is an unscripted encounter but so too are other parts of your journey.
Ten percent of the entire endangered black rhino population and fourteen percent of the white rhino population in Kenya live in Lewa because of its unprecedented conversation efforts. You have the chance to see the Big Five during your time at Lewa in addition to many unique animals seldom found elsewhere, including the endangered Grevy's zebra, blue-legged Solami ostrich, reticulated giraffe, giraffe-necked gerenuk, and the elusive wild dog. There are few things quite as thrilling as tracking lion or leopard prints with your expert safari guide and seeing elephants drinking at a watering hole or a tower of giraffes meandering by. You can opt to go on a camelback safari, which is another way to have an exciting experience, up close and personal. Lewa Conservancy was transformed from a sprawling cattle ranch into a conservation area by conscientious landowners who believed in working closely with the region's communities. During your time at Lewa, you will gain insight into the conservancy's initiatives and enjoy an abundance of exciting activities.
Days 6-8: Maasai Mara Game Reserve
The wonder and beauty of your experiences thus far bring you to a new threshold. Flying high above the Great Rift Valley, the "cradle of mankind," you pass through a point of a new beginning and a time between what was and what is next. Time feels suspended, like space between the chapters of your book. As you start to descend, you gaze over the vast Maasai Mara—the northern extension of the Serengeti Plains—and you spy tiny creatures moving as if in slow motion. You look again and start to make out a tower of giraffes, a parade of elephants, a dazzle of zebras. It takes your breath. Your tented camp is on our list of most eco-friendly safari lodges with a gold rating. After your morning safari, enjoy a cup of Kenyan coffee on your veranda with endless views over the vast open clearings of the ecosystem.
Maasai Mara—a vast savanna grassland, dotted with acacia trees, with rolling hills and breathtaking panoramas in every direction—is one of the best places in all of Africa to spot the Big Five. "The Mara" is well-known for its great herds of plains game, like black-maned lions, leopards, cheetahs, and elephants, as well as virtually every other kind of animal found in Kenya. Between July and October, millions of zebras and wildebeest make the dangerous trek across the Maasai Mara in search of new grazing territory. Culturally, the reserve is extraordinary because of the proud and colorful Maasai who inhabit the area. Highlights during our time here include phenomenal game viewing, a walk along the banks of The Mara River—where hippos and crocodiles are often seen in great numbers—and exploring the optional activities in The Mara, which include bush dinners and sundowners, visits to a local school and other cultural experiences, and of course the legendary early morning hot air balloon safaris over The Mara, among others.
Days 9-11: Lamu Island
Lamu Town is the oldest living town in East Africa. You will feel as if you have traveled in a time machine to witness what life was like hundreds of years ago. There is a real opportunity in every moment to learn something new about life with such contrasting experiences on this journey. Donkeys are the sole means of transport on Lamu, as they have been for the past 700 years. Warm winds blow gently through the windows of your beautiful resort, making the palm trees sway and soothe, and catching the sails of the dhows (traditional Swahili boats) that pass slowly by. Mostly, Lamu is a place to take things "pole pole" (slowly slowly) and completely relax on this final leg of your journey as you share stories of your adventures and of ones to come.
The Lamu Archipelago consists of a group of islands on the north coast of Kenya. Lamu has not changed much over the centuries and it has been described as the Kathmandu of Africa. As the oldest living Swahili town in Kenya, it has been recognized by UNESCO as a World Heritage Site for its cultural significance. A close-knit and conservative society, Lamu has retained its important status as a center of education in Islamic as well as Swahili culture. Long walks on deserted white sand beaches, sailing in a traditional dhow, exploring the narrow streets of Lamu Town and old Swahili settlements, and enjoying fresh lobster, crab, and a host of wonderful Swahili delicacies are a few of the activities you will enjoy.
Day 12: International flight onward
Enjoy another relaxing morning before sailing away on your dhow to a neighboring island for your flight back to Nairobi. Eternal Lamu Town, with its white stone and coral houses, has its own relaxed rhythm that fades in the distance as you sail away. As the dhow rises and falls with the waves, the drums of Africa beat in your soul.
Back in Nairobi, get ready for your flight back home in your day room before transferring to the airport and your onward flight. You came to Africa for adventure, to live your dreams, to lead your family and friends to new experiences. There has been a real opportunity in every moment to learn something new about life.
All airport arrival welcomes and departure farewells with private transfers
Double occupancy accommodations
All meals
Wildlife safari game-viewing drives
Services of English-speaking guides and drivers
All park and conservancy fees
Membership in Flying Doctors Society
All internal flights
Customary tipping of guides
Gratuities to lodge staff
Bottled water while on safari
Storage and organization of gear, baggage, and personal affects
Services of our management team in the USA and Africa
Guaranteed departures with just two guests
Great Kenyan Embrace Dates customized around your ideal timeframe
| | | | |
| --- | --- | --- | --- |
| | Low-Season | Mid-Season | High-Season |
| Adult | $10,960 | $12,490 | $12,980 |
| Child | $8,930 | $9,870 | $10,390 |
| Single Supplement | $2,700 | $3,100 | $3,300 |
If I go on this Metamo trip, what can I expect in terms of a return on my investment?
You won't come home with a material result, except a few pretty cool souvenirs. But if you are looking for space and sky, infectious joy, and stories to last a lifetime, then you'll hit the jackpot. There is a real opportunity in every moment to learn something new about life and to expand your horizons in between what was and what will be. Many of our clients have said it is the first time in their adult life that they didn't have to worry about a thing and could completely decompress.
Why should I choose this journey over others?
Some quality from each place we travel to comes with us to the next destination. This itinerary is even more multidimensional than the rest. It is for those who want to go out of their comfort zone a bit and expand their horizons. "The Great Kenyan Embrace" offers a cultural experience with visits to Lukenya and Lamu Island and other special gems. You will also walk in Laikipia, safari in "The Mara," and experience so much that you will think you were gone for weeks instead of days.
What are the people like I will come across?
People are people no matter where you go. It is quite humbling, however, to see generally how joyful people can be who have so little compared to what we experience in the more affluent west. We are reminded that joy comes from people, from friendships, and not the car or house we have back home. It is found in laughter and not in the material world. This can be life-changing for many of us and can bring on a welcomed paradigm shift.
With an emphasis on culture, will I still get to see animals?
You will see an abundance of animals. As explorers, you will not only encounter the human experience but the animal one as well. You're going to Lewa Downs and to the greatest park in Kenya, Maasai Mara. That should say it all!
But seriously… Why this trip?
You are entering a magnificent story and this enlightened experience could very well be the greatest adventure in your life. It has been carefully planned (like all of our trips) to offer a contrast of experience—mixing incredible wildlife with different rich cultural experiences that you can't help but be transformed by the experience. You came to Africa for adventure, to live your dreams, to lead your family and friends to new experiences. In the end, you leave Africa but it is not able to leave you. It gets inside your heart, mind, and soul. Ask anyone who has been there.
Extensions
For those who don't want to miss out on any aspect of Africa.
Ready to start your adventure?
We're ready to be your guide as you embark on the wondrous discovery of your own great story.