Essence of Kenya
The "Essence of Kenya" provides a thrilling and enlightening experience over nine magical days on safari. Explore Kenya's spectacular wildlife parks in a wild realm of extraordinary landscapes under open skies with expert guides
Explore this journey
Price
Starting from
$10,400
The "Essence of Kenya" provides a thrilling and enlightening experience over nine magical days on safari. Explore Kenya's spectacular wildlife parks in a wild realm of extraordinary landscapes under open skies with expert guides. Stay in elegant and intimate safari camps in secluded locations for optimal wildlife experiences. This amazing Metamo safari adventure takes you from the dramatic and untamed Samburu to the lush green Mount Kenya region, and finally to Kenya's most famous park, Maasai Mara. The Great Wildebeest Migration—the greatest movement of animals in the world—takes place in "The Mara" and you will have the best seats in the house for unparalleled game viewing opportunities. There is really no predicting what will happen next on the wide-open savannah.
Luxurious accommodations in optimal locations brimming with romantic charm 
Sublime days on safari in Kenya's premier wildlife reserve, Maasai Mara, on the Serengeti Plains
Chance to witness the Great Wildebeest Migration
Discover the Big Five
Untamed Samburu Game Park with unique animals
Options for golf, guided nature walks, and horseback rides on the equator with views of Mount Kenya
Visit an animal orphanage
Options for hot air balloon rides, bush dinners, horseback safaris and more
Otherworldly Maasai Village visit
"When you leave Africa, as the plane lifts, you feel that more than leaving a continent you're leaving a state of mind. Whatever awaits you at the other end of your journey will be of a different order of existence."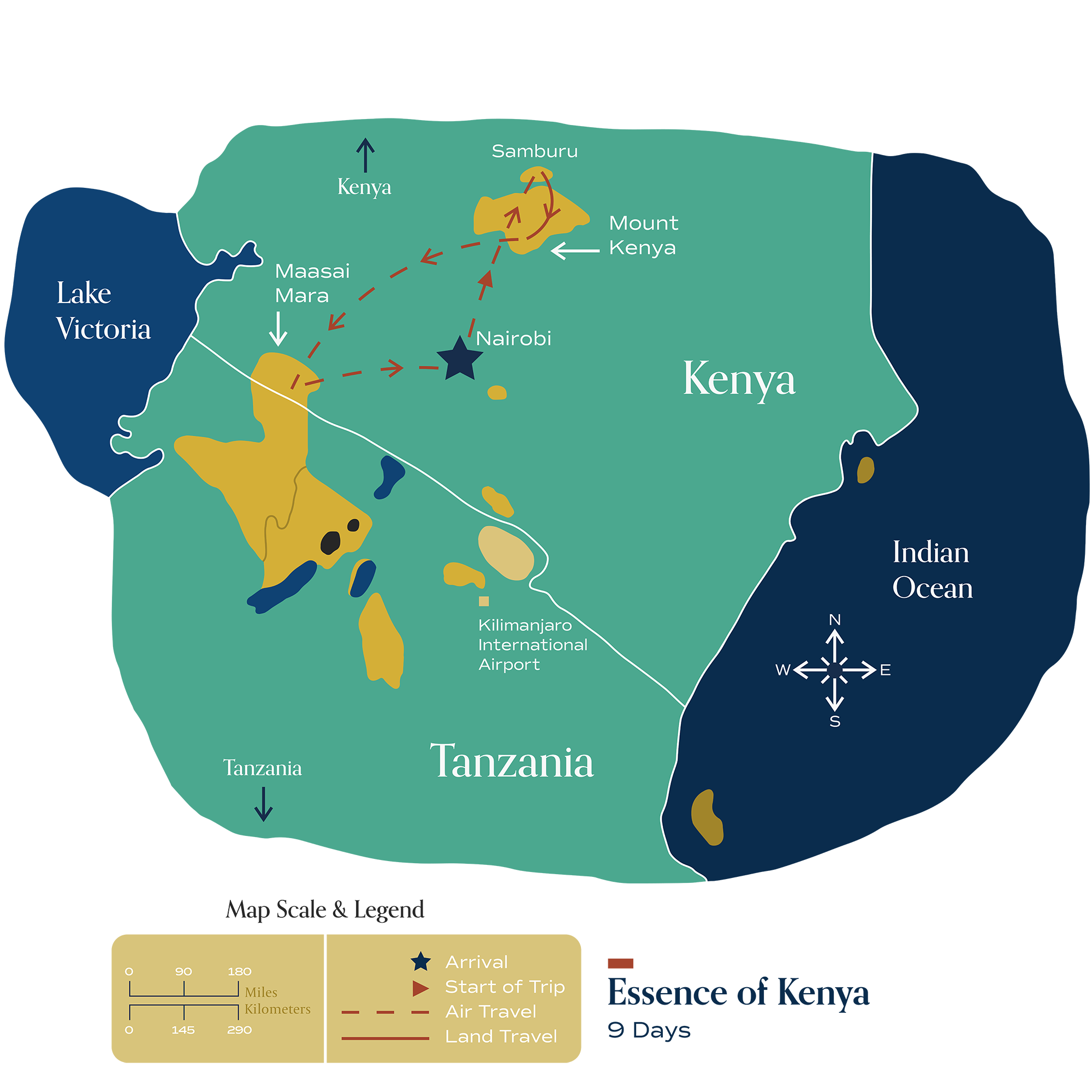 Days 1: Welcome to Nairobi
Arriving this evening, receive a warm Metamo welcome with an immediate transfer to your charming hotel and sumptuous bed waiting for you after your long flight. From the moment you arrive, you will begin to enjoy the very best of Kenyan hospitality and service—the quintessential experience of Africa.
Days 2-3: Samburu Game Reserve
Wild, quiet, dramatic, and beautiful are words that come to mind. You quickly realize that you are in a very special place. Samburu feels untamed—your spirit might feel untamed too—especially after your day on safari and an evening of utter relaxation at your wildly romantic luxury tented camp. You will learn that a safari is always much more than a game drive. It is an unscripted experience filled with adventure.
Samburu is named after the colorful local tribe who dye their hair with ochre—the same color as the soil found in the landscape. The Samburu are known as the "butterfly people" because of their brightly-colored clothing accentuated against the sun-baked earth. The Ewaso Nyiro River winds through the park and animal sightings along the river are common. A baby elephant plays in the water as its mom and dad drink voraciously from the river while keeping a careful eye out for predators vibrating with attitude. Samburu boasts animals rarely found elsewhere—Grevy's zebra, gorgeously-patterned reticulated giraffe, bluish Somali ostrich, and giraffe-necked gerenuk, for example. Lions, cheetahs, leopards, elephants, buffaloes, Guenther's dik-diks, crocodiles, and hippos along the river banks are also present. Bird enthusiasts will be happy to hear that it is possible to spot as many as one hundred species of birds in a single day.
Days 4-5: Mount Kenya Safari Club
"They say that Mt. Kenya Safari Club was born of a love affair, and one that had all the ingredients of an epic Romance."
Surrounded by superbly manicured grounds and sitting right on the equator, enjoy a drink and breath the fresh air close to the Afro-alpine forest—such a striking contrast to the semi-arid wildlands of Samburu. Prehistoric-looking marabou storks approach while you spy colobus monkeys as they climb the rooftops. Worldly travelers from the four corners of the globe, families on holiday, British soldiers on leave, and business people meeting for unknown reasons give this world-famous resort a sophisticated elegance of a bygone era. Straddling the equator surrounded by lush rainforest, the Mount Kenya Safari Club is sprawled out on the slopes of majestic Mount Kenya and is one of the world's most exotic and luxurious holiday resorts. Views of Mount Kenya, Africa's second-highest peak, loom in the distance.
An enthralling early morning guided nature walk through the forest starts your day out just right, leaving the rest of the day to soak up the old-world charm and ambiance the Mount Kenya Safari Club is known for. Go on horseback rides through the forest, play golf right on the equator, visit the on-site animal orphanage and learn about the care and eventual release of these wild animals. Originally the retreat of movie star and club founder, William Holden, the club's illustrious former members have included Winston Churchill, Bing Crosby, Charlie Chaplin, Bob Hope, President Lyndon Johnson, Conrad Hilton, Mrs. Anwar Sadat, among many others and has treated visitors like Queen Elizabeth and footballer Joe Montana. During your stay, enjoy optional activities including horseback riding, golf, croquet, swimming, and a visit to the on-site animal orphanage—an experience you simply should not skip.
Days 6-8: Maasai Mara Game Reserve
Hemingway said it best: "I never knew of a morning in Africa where I woke up that I was not happy." Fly as high as your spirits this morning above the Great Rift Valley to Kenya's most famous game park, the Maasai Mara. There is really no predicting what will happen next on this epic life-changing adventure. After all, you have the best seats in the house for unparalleled game viewing opportunities. The park, located on the northern extension of the Serengeti Plains, is without a doubt one of the greatest safari destinations in Africa. Between July and October over a million wildebeest and zebras make the dangerous trek across the croc-infested Mara River in search of new grazing territory. Nowhere in the world is there a movement of animals as immense as the wildebeest migration.
After your morning safari, enjoy a cup of Kenyan coffee on your veranda with endless views over the vast open clearings of the ecosystem. Back at your luxury tented camp, where relaxation and romance dance together in one of the most beautiful settings imaginable, soak up all of the wide-open breathing space that is often lost in our usual day-to-day existence back home. Maasai Mara—a vast savanna grassland, dotted with acacia trees, with rolling hills and breathtaking panoramas in every direction—is one of the best places in all of Africa to spot the Big Five. Also called "The Mara," this park is well-known for its great herds of plains game like black-maned lions, leopards, cheetahs, and elephants, as well as virtually every other kind of animal found in Kenya. Culturally, the reserve is extraordinary because of the proud and colorful Maasai who inhabit the area. Highlights during our time here include phenomenal game viewing, a walk along the banks of The Mara River—where hippos and crocodiles are often seen in great numbers—and exploring the optional activities in The Mara, like bush dinners and sundowners, visits to a local school and other cultural experiences, and of course the legendary early morning hot air balloon safaris over The Mara.
Day 9: International flight onward
Enjoy a final early morning game drive before bidding reluctant farewells to your guides and lodge staff. Fly back to Nairobi where day rooms await you. What is it about Africa that has gotten under your skin as happens to so many of us? Certainly, it's the gentleness and infectious joy of the people. It is also the vastness and sheer beauty of the land that seems to extend forever. You came to Africa for adventure, to live your dreams, to lead your family and friends to new experiences. In the end, you leave Africa but it is not able to leave you. It gets inside your heart, mind, and soul. Your story is a reflection of your imagination and we are immensely happy to be its guide.
All airport arrival welcomes and departure farewells with private transfers
Double occupancy accommodations
All meals
Wildlife safari game-viewing drives
Services of English-speaking guides and drivers
All park and conservancy fees
Membership in Flying Doctors Society
All internal flights
Customary tipping of guides
Gratuities to lodge staff
Bottled water while on safari
Storage and organization of gear, baggage, and personal affects
Services of our management team in the USA and Africa
Guaranteed departures with just two guests
Essence of Kenya dates customized around your ideal timeframe
Low-Season
Mid-Season
High-Season
Adult
$10

,400

$

11,980

$

12,680

Child
$7,66

0

$8,34

0

$8,96

0

Single Supplement
$

2,600

$3

,000

$3

,200
Why will this itinerary leave me satisfied, refreshed, and inspired?
We all have a burning desire to be free and for many of our clients who are in charge of companies, manage people, and have so many commitments, it is a great surprise to have everything taken care of for you. You will see so many animals that you won't be able to possibly count them, the people you will encounter will make you rethink your definition of joy, and the spontaneous events that come up on an adventure such as this make for great stories upon your return. You will also have plenty of time to download to reflect on the day, dig into your book on your luxury tent's secluded porch, and trade stories of the day's animal sightings. Many of our clients have said it is the first time in their adult life that they didn't have to worry about a thing.
What is the main reason I should choose this trip over the 10-Day Kenyan Safari?
There is no good answer but we will try: Samburu is in the semi-arid northern frontier and it is one of the greatest parks in the world—most safari-goers miss it. That is a big plus, not to mention the fact that you are able to see unique species in the area, such as the gorgeously-patterned reticulated giraffe, the bluish Somali ostrich, and the giraffe-necked gerenuk. The Mount Kenya Safari Club is an entirely different side of old-world colonial elegance that is a wonderful place to be. In contrast, there is Amboseli and Laikipia on our 10 Day Kenya adventure. Amboseli has some of the largest herds in Africa and iconic views of Kilimanjaro. Laikipia has a lot of appeal for people who want to get off the beaten track, go on walking safaris, and learn about conservation efforts in Kenya. Samburu can be considered wild and untamed compared to Amboseli and it is not as visited as other parks. Moving from the parched red-earth of Samburu to the lush farmland and forests of the Mount Kenya area in one day is a stunning contrast. Flying over the Great Rift Valley is quite humbling and Maasai Mara is the greatest park in Kenya. Both adventures end up in The Mara. You really can't go wrong.
Are there any major differences with this itinerary compared to the other Metamo adventures?
All of our adventures will inspire you in unique ways, whether it is to give you a renewed sense of wonder, deepen relationships with family and friends, or perhaps inspire you to begin that novel you've always wanted to write!
If you had to take all of your Metamo adventures and tell me the reason why I should go on this trip over all others what would that be?
Our journeys are rich in contrast, experience, and are enlightened adventures. While geographically you will move in pretty much a straight line north to south, topographically there is a great variance as you travel from the semi-arid northern frontier to the lush rainforests on the slopes of Mount Kenya and on to the safari grasslands of the Serengeti Plains of Maasai Mara.
How will this adventure help me with my life?
Many of our previous clients point to a dramatic shift in perspective that creates a life-changing transformation. When we are stagnant, when life doesn't change much from day-to-day, we become complacent. When we venture out into the world and expand our horizons, we are never quite the same. The Metamo experience revitalizes. It allows you to let go of the stress and tension and just enjoy being in the moment. The world also changes when you discover new eyes to see through. Looking even further out, when people realize their life is almost over and look back clearly on it, it is all too easy to see how many dreams have gone unfulfilled. If you've always dreamt about going to Africa, whether you go on a Metamo safari, on your own, or with another company, you will know you followed your dreams—which will ultimately give you a great sense of peace for your life. You came to Africa for an unrestrained adventure, to live your dreams, and to lead your family and friends to new experiences. In the end, you leave Africa but it is not able to leave you. It gets inside your heart, mind, and soul. Ask anyone who has been there.
Extensions
For those who don't want to miss out on any aspect of Africa.
Ready to start your adventure?
We're ready to be your guide as you embark on the wondrous discovery of your own great story.