Rwanda & Kenya, Kindred Spirits
Discover the critically endangered Mountain Gorillas of Rwanda and the Big Five in Kenya's most famous park, Maasai Mara located on the Serengeti Plains. Start your epic adventure of a lifetime journey in Rwanda before flying on to Nairobi to revel in the majesty of the full safari experience on the boundless plains of "The Mara." Kindred Spirits provides a thrilling and enlightening experience with the people, the land, and the animals of Rwanda and Kenya over ten magical days.
Explore this journey
Destinations
Rwanda & Kenya
Price
Starting from
$11,880
You have entered an untamed story bigger than expected. The sound of a gorilla beating its chest—thud, thud, thud—as you hike through the jungle-covered slopes in Volcanoes National Park is as exhilarating as it gets. Rwanda, the "Land of a Thousand Hills," is stunningly beautiful and her people, an absolute delight. Everything around you vibrates with life. Fly from the Rwandan capital, Kigali, to Nairobi, Kenya – the birthplace of the African Safari. Maasai Mara has an astounding year-round concentration of animals, including the seasonal Great Wildebeest Migration (July-October). Spend four glorious nights in a picturesque and intimate safari camp under canvas in a secluded location for optimal wildlife and genuine cultural experiences. There is really no predicting what will happen next on the wide-open savannah!
Please note that children 15 years and younger are not permitted to visit the gorillas. Gorilla Permits are not refundable for any reason.
The trek of a lifetime to spend an hour with mountain gorillas at close range

Additional morning adventure to discover the golden monkeys

Hike through stunning terraced hillsides observing village life
Interact with the resilient, generous, and kind people of Rwanda who have made reconciliation their gift to mankind
Enjoy the bustling, sophisticated capital, Kigali
Sublime days on multiple safaris in Kenya's premier wildlife reserve, Maasai Mara on the Serengeti Plains.
Discover the Big Five
Options for hot air balloon rides, bush dinners, horseback safaris and more
Otherworldly Maasai Village visit
Lodging in optimal and secluded locations brimming with romantic charm
Chance to witness the Great Wildebeest Migration (July-October)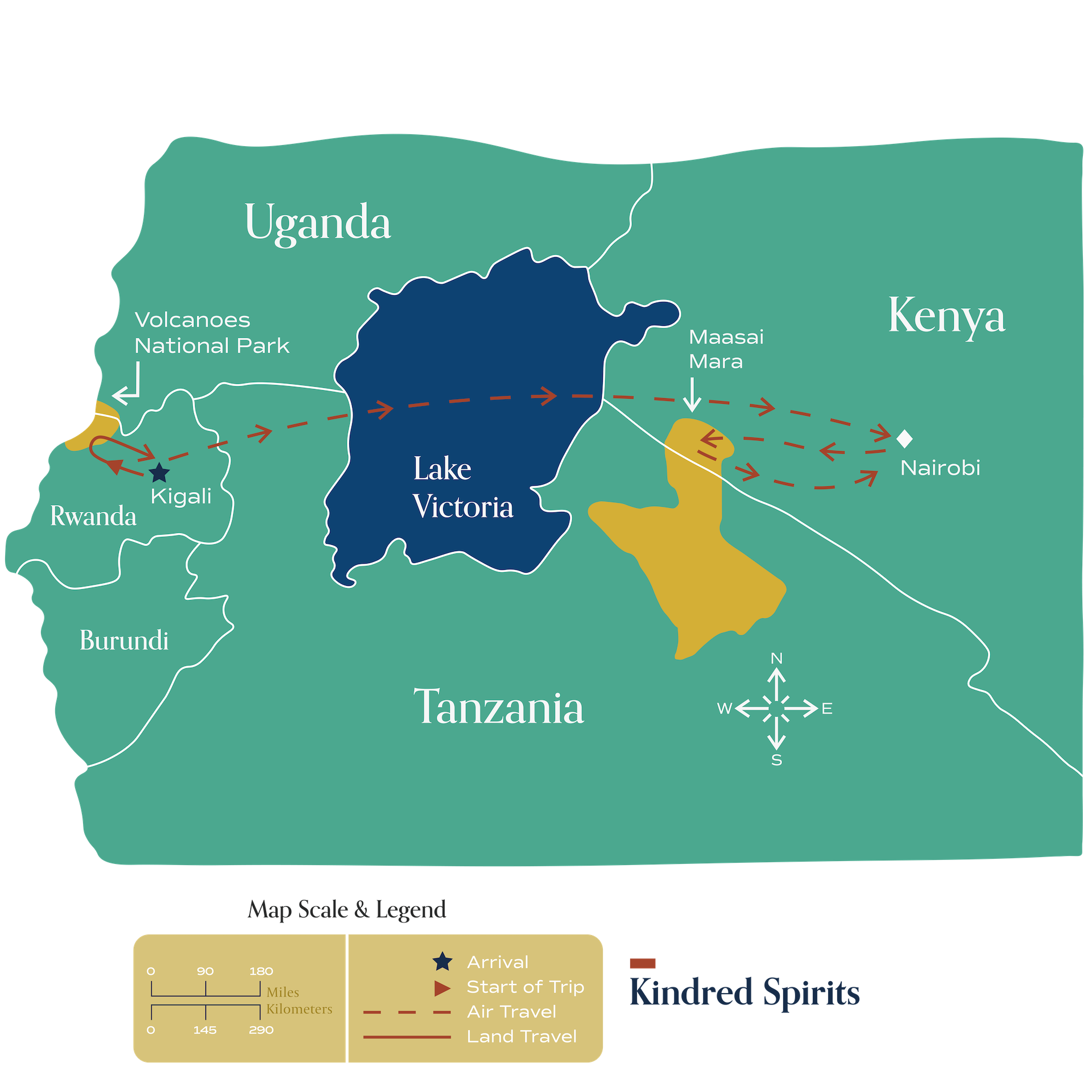 Day 1: Arrive in Kigali, Rwanda
The "Land of a Thousand Hills" is a small, yet scenically stunning country. On the slopes of the fabled Virunga Volcanoes reside some of the last mountain gorillas in the world. Arriving this evening, receive a warm welcome with an immediate transfer to your 5- star hotel. You are soon to experience the instantaneous hospitality and infectious smiles of the people welcoming you to Africa and, before long, the thrill and awe of spending time with the mountain gorillas of Rwanda.
Day 2: To your Gorilla Mountain lodge
Kigali was founded as a German settlement and is now a vibrant and sophisticated African city of one million residents. The genocide of 1994 was one of the most horrific episodes in human history, but in a true testimony to the resilience of humankind, the Rwandan people have put into practice a reconciliation that is a lesson for the rest of the world. This morning you will pay a sobering, yet important visit to the genocide museum in Kigali. After the tour, drive north past enchantingly beautiful tiered farmland toward Ruhengeri at the foothills of the Virunga Mountain Range, arriving at your lodge in the late afternoon. Many surprises await you.
Day 3: Gorilla trek
Everything around you vibrates with life. This morning you go in search of the world's largest living primate, the critically endangered Mountain Gorilla in a small group. Arise well before the gorillas and after a hearty breakfast before driving to meet your Gorilla Trackers for a briefing. Starting in the cultivated foothills of the Virunga, you will see stunning views in all directions. Signs of buffaloes and elephants may be found as you enter the denser rainforest which comes alive with colorful bird calls and the magical sounds of the jungle. The magnificent peaks of the Virunga—which are among the highest in Africa—are visible through openings in the canopy. You may hear the beating of a chest in the distance as your expert trackers get you ever closer to the gorillas. Once the gorillas are located, you are allowed to stay with them for one magical hour. This is certainly one of the greatest wildlife experiences on the planet. Back at your lodge, enjoy a much welcomed shower and lunch before taking advantage of the diverse range of optional activities including visiting the surrounding community, a visit to the Dian Fossey tomb and gorilla cemetery, exploring the biodiversity on site and in the immediate area, nature and bird walks, and so much more including luxuriating at the spa and enjoying a rejuvenating message. Relax and enjoy the oasis of calm that your accommodations provide..
Day 4: Golden Monkeys & Kigali
This morning you will partake in another adventure in Virunga with a small group but this time in search of the endemic golden monkeys. The golden monkeys live in troops of around eighty members in the bamboo forests at the base of the volcanoes. They live in the trees almost exclusively and so taking pictures of these active arboreal creatures is not as easy as with the gorillas. The trek is easier than the trek the day before. After your trek, depart back to Kigali and with an overnight at your luxury hotel.
Day 5: Nairobi, Kenya
Fly from Kigali to the safari capital of East Africa, Nairobi, Kenya. Nairobi bustles with activity and it has been experiencing a construction boom. Your gorgeous hotel is a great location to relax in beautiful gardens and tell stories of your time in Rwanda. Optional visits today to Nairobi sites may include (time permitting) visiting the giraffe center, Kazuri Bean Factory, the Karen Blixen Museum and/or markets and shops of Nairobi. You can also opt to relax, download your photos, or simply catch up on your book before dinner.
Days 6-9: Maasai Mara Game Reserve
Hemingway said it best: "I never knew of a morning in Africa where I woke up that I was not happy." Fly as high as your spirits this morning above the Great Rift Valley to Kenya's most famous game park, the Maasai Mara. There is really no predicting what will happen next on this epic life-changing adventure. After all, you have the best seats in the house for unparalleled game viewing opportunities. The park, located on the northern extension of the Serengeti Plains, is without a doubt one of the greatest safari destinations in Africa. Between July and October over a million wildebeest and zebras make the dangerous trek across the croc-infested Mara River in search of new grazing territory. Nowhere in the world is there a movement of animals as immense as the wildebeest migration.
After your morning safari, enjoy a cup of Kenyan coffee on your veranda with endless views over the vast open clearings of the ecosystem. Back at your luxury tented camp, where relaxation and romance dance together in one of the most beautiful settings imaginable, soak up all of the wide-open breathing space that is often lost in our usual day-to-day existence back home. Maasai Mara—a vast savanna grassland, dotted with acacia trees, with rolling hills and breathtaking panoramas in every direction—is one of the best places in all of Africa to spot the Big Five. Also called "The Mara," this park is well-known for its great herds of plains game like black-maned lions, leopards, cheetahs, and elephants, as well as virtually every other kind of animal found in Kenya. Culturally, the reserve is extraordinary because of the proud and colorful Maasai who inhabit the area. Highlights during our time here include phenomenal game viewing, a walk along the banks of The Mara River—where hippos and crocodiles are often seen in great numbers—and exploring the optional activities in The Mara, like bush dinners and sundowners, visits to a local school and other cultural experiences, and of course the legendary early morning hot air balloon safaris over The Mara.
Day 10: International flight onward
Enjoy a final early morning game drive before bidding reluctant farewells to your guides and tented lodge staff. Fly back to Nairobi where day rooms await you. What is it about Africa that has gotten under your skin as happens to so many of us? Certainly, it's the gentleness and infectious joy of the people. It is also the vastness and sheer beauty of the land that seems to extend forever. You came to Africa for adventure, to live your dreams, to lead your family and friends to new experiences. In the end, you leave Africa but it is not able to leave you. It gets inside your heart, mind, and soul. Your story is a reflection of your imagination and we are immensely happy to be your guide.
All airport arrival welcomes and departure farewells with private transfers
Visit to Kigali's genocide museum
Non-refundable Mountain Gorilla Permit and gorilla trek with guide, tracker, and porter
Double occupancy accommodations
All meals
Wildlife safari game-viewing drives
Services of English-speaking guides and drivers
All park fees, conservancy fees, and government taxes
Membership in Flying Doctors Society
Customary tipping of guides
Gratuities to lodge staff
Bottled water while on safari
Storage and organization of gear, baggage, and personal effects
Services of our management team in the USA and Africa
Low-Season
Mid-Season
High-Season
Adult
$

11,800

$

12,840

$

13,760

Single Supplement
$

3,000

$

3,200

$

3,400
Please note that children 15 years and younger are not permitted to visit the gorillas. Gorilla Permits are not refundable for any reason.
What is the main reason I should choose this Journey over other ones you offer?
To be able to encounter some of the world's most fabled wildlife in two completely different habitats is a very special experience. It is a once-in-a-lifetime opportunity to discover in person and observe up close up the mountain gorilla. Then, to be able to spend four full days spotting lions, rhinos in the thickets, elephants on the open plains, stealthy leopards in acacia trees, more giraffes that you can count, and so much more is an adventure beyond measure. You will also become acquainted with local cultures and have an enlightening experience of discovery. Flying over the Great Rift Valley is quite humbling and Maasai Mara is known as the greatest park in Kenya. Spending four nights in "The Mara" is the quintessential African safari experience, where you very likely will encounter the Big Five and observe exciting predator interaction. Combining the Gorilla Trek in beautiful Rwanda with stunning Maasai Mara in Kenya makes for an untamed adventure of epic proportions.
Why does the Gorilla Trek start at the beginning of the trip and not at the end?
Every Metamo itinerary has in mind where we want to take you. We want to make the biggest impact possible. Starting with Rwanda allows you to have the gorilla experience in the beginning so you can savor the experience the rest of the trip. There is a lot of movement those first four days and we want you to end in the most relaxed state of mind possible. After the gorilla experience, flying from Kigali, Rwanda, into Nairobi, Kenya, is a great way to start the next leg of your adventure. Well rested, you now get to experience one of the greatest game parks on the planet -Maasai Mara National Game Reserve for multiple days. Having the extra time in one park allows for beautiful in depth experiences with the people, land, and animals of Africa.
What is the Great Migration — and when does it take place?
The Great Migration is the awe-inspiring movement of over 1.5 million wildebeests — as well as zebras, gazelles, and predators — from the Serengeti in Tanzania through croc-infested waters to the Maasai Mara in Kenya. It's a yearly cycle as the wildlife migrate in search of greener grass. There's no telling exactly when it will take place, as factors like rain and drought are unpredictable. With that in mind, we are constantly in touch with our guides on the ground and, if the migration is a top priority of yours, we will recommend the best possible time of year and itinerary to place you in an ideal position with the greatest potential to see the migration. As a general rule of thumb, the migratory animals are in Maasai Mara (Kenya) August through October. For the rest of year they migrate in a tremendous clockwise circle of sorts through the Serengeti (Tanzania). Of course the migration never starts or ends – it is a continuous migratory pattern of life in the Serengeti Ecosystem. Whether or not you witness the migration itself, the animals of the Serengeti Plains are plentiful year-round, so you'll be sure to spot them on your safari.
Why is Metamo different from other safari companies?
We are not selling a product. We offer an experience like no other. And we care a great deal about you. The Metamo experience is ultimately about transformation and we are asking you to step outside of your comfort zone to allow for the change of perspective that comes from travel to Africa. Our commitment is centered on making sure that you and your family and friends have the greatest and safest and varied adventure possible. Many of our clients have said it is the first time in their adult life that they didn't have to worry about a thing and could completely rejuvenate and expand their personal horizons.
Why will this itinerary leave me satisfied, refreshed, and inspired?
For many of our clients who are in charge of companies, manage people, and have so many commitments, it is a great surprise to have everything taken care of for you. You will see so many animals that you won't be able to possibly count them, the people you will encounter will make you rethink your definition of joy, and the spontaneous events that come up on an adventure such as this make for great stories upon your return. You will also have plenty of time to download to reflect on the day, dig into your book on your luxury tent's secluded porch, and trade stories of the day's animal sightings around the fire pit over cocktails.. Many of our clients have said it is the first time in their adult life that they didn't have to worry about a thing.
Extensions
For those who don't want to miss out on any aspect of their life-changing African safari.
Ready to start your adventure?
We're ready to be your guide as you embark on the wondrous discovery of your own great story.