Splendid Pursuit of Tanzania
Travel Tanzania in the splendid pursuit of unrestrained adventure and peak experiences. Walk with the Maasai and your guides across ancient lands. Explore some of the greatest wildlife parks that stir the imagination in this wild realm of extraordinary landscapes. Sleep in a pitched tent under the stars and in elegant and intimate safari camps in the game parks that make you feel as if you are in the pages of a Hemingway novel.
Explore this journey
Price
Starting from
$8,960
Walk, marvel, and explore in splendid pursuit of ancient cultures, open skies, and wildlife like nowhere else on earth. Sleep in a pitched tent under the stars and in elegant and intimate safari camps in the game parks that make you feel as if you are in the pages of a Hemingway novel. Bring back memories and stories to last a lifetime. You will see and experience more than you can imagine in 11 days of Tanzania travel!
Walking safaris over ancient lands
Trek to remote Empakaai Crater & Lake Natron
Camp under billions of stars
Discover the Hadzabe Bushmen, one of the last hunter-gatherer tribes in the world
Learn the wisdom from otherworldly Maasai Warriors
Safari on the floor of Ngorongoro Crater, the "Eighth Wonder of the World"
Multiple wildlife safaris with prolific wildlife on the Serengeti Plains
Enjoy the gentleness and hospitality of the people
Sleep in pitched tents and in secluded and elegant tented camps in incredibly picturesque settings
"But African time was not the same as American time… As African time passed; I surmised that the pace of Western countries was insane, that the speed of modern technology accomplished nothing, and that because Africa was going its own way at its own pace for its own reasons, it was a refuge and a resting place."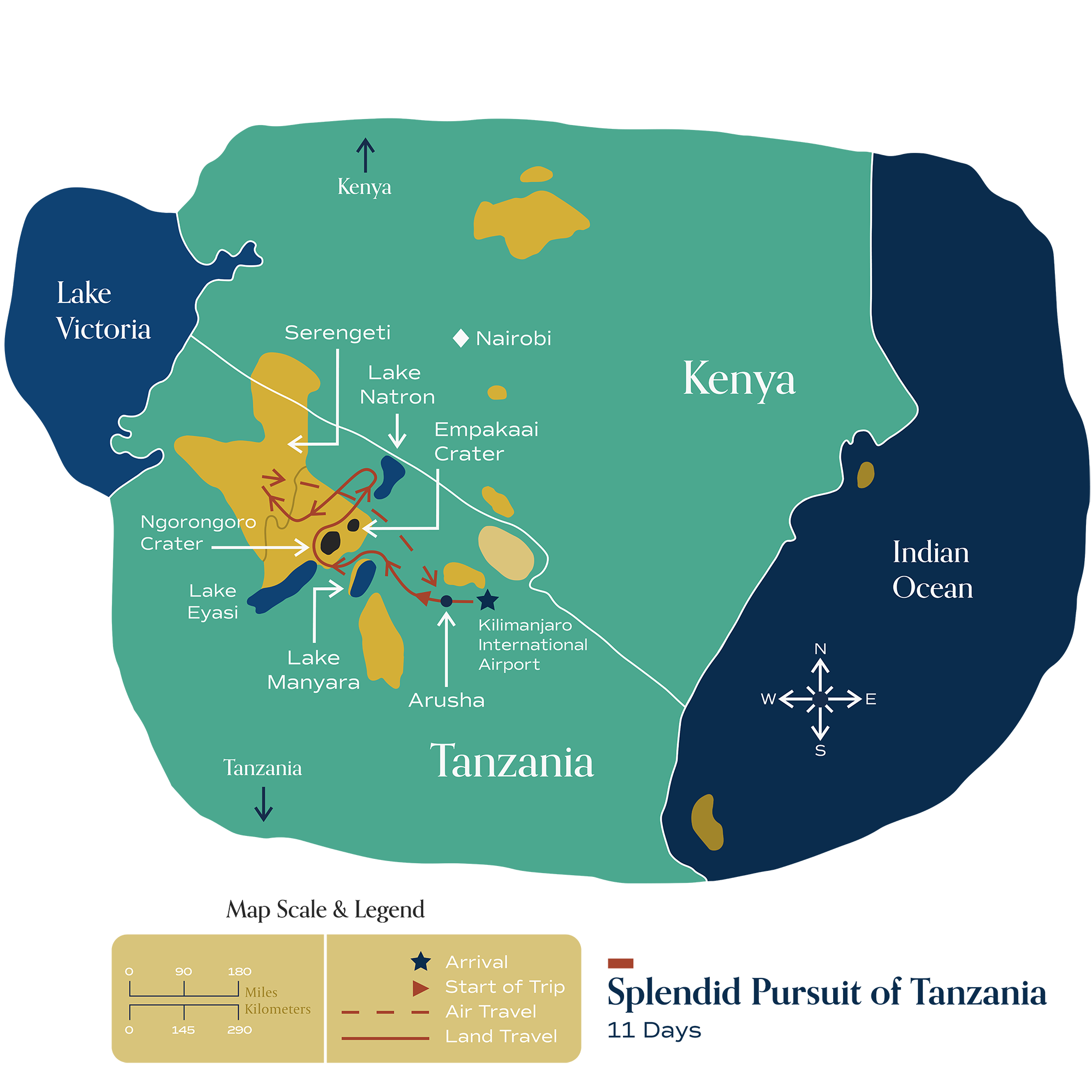 Day 1: Arrive in Arusha
Welcome to the safari adventure capital of Tanzania, Arusha. Arriving this evening, receive a warm Metamo welcome with an immediate transfer to your hotel and comfortable bed waiting for you after your long flight. From the moment you arrive, you will begin to enjoy the very best of Tanzanian hospitality and service in your ultimate exploration of quintessential Africa.
Day 2: Walking adventure to Lake Manyara
There is an opportunity in every moment to learn something new about life. Already you are blown away by the freshness of the morning air, captivated by the beautiful gardens, and stirred by the new sounds you have never heard before. Depart in your safari vehicle with your expert guide west toward Lake Manyara. You will be met en route by the Maasai who will guide you on a walk starting in the Minjingu area as you proceed toward and along Lake Manyara. Visit Mto Wa Mbu, a thriving village that lies at the entrance to beautiful Lake Manyara National Park. The deep rusty brick-red colored earth seems to dust everything. It lightly covers the brightly colored storefronts and the whistling thorn and acacia trees, making everything seem from a different time. Cultures from across Tanzania are represented here and it is fascinating to walk through the village and shop for local crafts. You will need to hone your bargaining skills in Mto Wa Mbu. Lake Manyara National Park is a lovely scenic park famed for its tree-climbing lions, bountiful birdlife, and large numbers of hippos and baboons. Elephants are easily seen and its varied landscape supports other game, including zebras, giraffes, warthogs, impalas, dik-diks, waterbucks, and flamingos, which come to the park intermittently. The park is a combination of mahogany forest, marsh, and grasslands. Manyara is two-thirds water, one-third dry land and home to a spectacular concentration of game. The park is a flash of green amid an otherwise parched landscape. Over 350 species of birds populate the park.
Day 3: Lake Eyasi and hunting with the Hadzabe Bushmen
Walking with the Hadzabe Bushmen in the early hours of the morning, through thickets and across dry creek beds, with arrows flying into the trees, you enter the primordial—witnessing firsthand how life was for most of human history. Magical. Instinctive. Raw. A glimpse of our infinite past when we were all hunter-gatherers.
Once at your Eyasi pitched tented camp, you can enjoy a walk around the local area in anticipation of your search for the Hadzabe Bushmen, true hunter-gatherers. Small groups of Hadzabe Bushmen live around Lake Eyasi. Their language resembles the click languages of other bushmen thousands of miles to the south in the Kalahari. A few hours spent with the bushmen makes the apparently inhospitable bush country come to life and to watch them hunt is a unique experience as they stealthily track, spot, then kill their prey. Their small population was seriously threatened, particularly during the period when Julius Nyere tried to introduce his Ujuma policy. The tribe resisted the forcible settlement policies and nowadays most of their children have never seen a doctor or attended school. The bush provides for all their needs and is a classroom for their offspring. They are often willing to have visitors come and see their simple bush homes where the tree canopy alone or a cave provides them with shelter. They live entirely off the bush and from hunting, generally small antelopes and baboons, although in rainy seasons gazelles and antelopes come down from the Ngorongoro or Serengeti to their then lush bushlands offering them richer pickings. Lake Eyasi is a mildly alkaline lake stretching for about 30 miles to the southwest of the Great Rift Valley. The meadows along the shores of the lake and forests are home to a wide variety of wildlife including leopards, hippos, a variety of monkeys, various birds, greater and lesser flamingos, storks, and pelicans.
Days 4-5: Ngorongoro
As you wind up to the crater rim lush green foliage is dusted with the same mist of the brick-red earth and contrasts with the white mist of the clouds that shroud the volcano. Maasai tend their herds. Villagers carry firewood or water on their heads, instinctively keeping an eye out for an elephant or other animals that could come out of the bush at any moment. Arriving at the crater rim you get out of the vehicle and look out over the expanse of the crater below. This is the largest collapsed caldera in the world. Spirits are lifted by the beauty and grandeur of this place. A moment frozen in time just before the exciting wildlife encounters that await you. The animals are only specks for now, nearly 2,000 feet below. The perspective is foreign and gives us a sense of timelessness.
Drive down the 1900-foot crater wall from the rim of this spectacular extinct volcano. Here you will find Africa's largest permanent concentration of wildlife. Ngorongoro has been referred to as the "Eighth Wonder of the World." Ngorongoro towers above the Northern Serengeti Plain and it is celebrated as containing some of the most magnificent scenery in the world. Ngorongoro's 105-square-mile crater is the largest unbroken crater on Earth and is packed with just about every species of wildlife found in East Africa. It is possible that we will see the Big Five—all of them—in one day. Large plains game permanently inhabit the area and the scenery is sensational. Some 30,000 animals live in the crater and, because the grasses are short, game is easily spotted and can often be approached quite closely. It is also one of the few parks in Africa where rhinos are relatively easy to locate. Enjoy the awe-inspiring views from your lodge of the crater below (weather permitting), spying herds of buffaloes and wildebeests that look like ants from the distance.
Days 6-7: Empakaai Crater to Lake Natron
The true African road is the footpath. Enjoy three days of hiking in remote areas guided by a Maasai Guide. Donkeys carry your gear so you can thoroughly enjoy the breathtaking landscapes and remoteness of the experience. Empakaai Crater, standing one thousand feet high and over three miles in width, is a dramatic volcano in which the caldera is surrounded by a steep, forested wall. You can view water birds such as flamingos by the lakeshore. You will see blue monkeys and ample birdlife. The night sky is dreamlike as you camp under the stars with the southern cross as your guide (and of course the Maasai).
Days 8-10: Serengeti
The morning light is brilliant as you cross the expanse of the Ngorongoro Conservation Area bound for the Serengeti—home to magnificent creatures and arguably the greatest wildlife theater on earth. Stop at Olduvai Gorge en route and walk to the bottom where Mary Leaky discovered the remains of Australopithecus Homo Habilis and Homo Erectus. Contemplating the breath of time of mankind's evolution is humbling, if not incomprehensible. As you walk down to the gorge floor, every step makes you feel like you are walking backward into primordial time. It is hard for us to appreciate time beyond two or three generations, much less the millions of years we are witnessing being unraveled before us as we walk down to the excavated bottom of Olduvai Gorge.
Serengeti is perhaps the most impressive wildlife sanctuary in the world. The park has more large animals than any other protected area on earth. On the Serengeti Plain lives an estimated 2,500 lions and there are more cheetahs here than anywhere else in Africa. Hyenas, wildebeests, zebras, gazelles, ostriches, hippos, and other animals can be seen in abundance. Covering more than 5,700 square miles, the Serengeti is breathtaking terrain composed of acacia savannah, grass plains, and dense woodland grouped around kopje rock formations standing in a sea of grass. The kopjes provide shelter to a great variety of plants and animals, from the elusive leopard to the tiny dik-dik. It is estimated that one million animals live in the area with more than one-third of them being wildebeests. Back at your luxury tented camp—where relaxation and romance dance together in one of the most beautiful settings imaginable—soak up all of the wide-open breathing space that is often lost in our usual day-to-day existence back home.
Day 11: International flight onward
The morning birds wake Africa and golden light permeates everything, including your spirit—as it has done throughout this expedition. Say your reluctant farewells to your guides and lodge staff before flying back to Arusha. You have a feeling like you have left something behind as you start to board your plane. You have all of your belongings and a few meaningful gifts for your loved ones. So what is it? Then it sinks in that you are leaving some part of yourself behind, somewhere under the open sky, on the shores of a remote lake, or in the smiles of the people. You may very well return to Africa one day in splendid pursuit of what you left behind.
All airport arrival welcomes and departure farewells with private transfers
Double occupancy accommodations
All meals
Wildlife safari game-viewing drives
Services of English-speaking guides and drivers
All park and conservancy fees
Membership in Flying Doctors Society
All internal flights
Customary tipping of guides
Gratuities to lodge staff
Bottled water while on safari
Storage and organization of gear, baggage, and personal affects
Services of our management team in the USA and Africa
Guaranteed departures with just two guests
Splendid Pursuit of Tanzania custom designed around your ideal timeframe 
| | | | |
| --- | --- | --- | --- |
| | Low-Season | Mid-Season | High-Season |
| Adult | $8,960 | $9,860 | $10,540 |
| Child | $6,910 | $7,570 | $7,960 |
| Single Supplement | $2,200 | $2,400 | $2,600 |
What is special about this itinerary?
The Splendid Pursuit of Tanzania provides the opportunity to walk in the great wide open guided by locals, including the Maasai. It takes you through ancient lands and off the beaten track. There is more ruggedness to this itinerary—at least for a few of the days—which allows for even more appreciation for the splendor of the nicer luxury camps in the safari parks. The contrast of experience provides an opportunity for personal growth as horizons are expanded.
What is the main reason I should choose this 11-day adventure over the 9-day Tanzanian adventure?
The 9-day experience is focused on wildlife, mostly. The 11-day is a different kind of experience as there is a focus on movement through ancient lands. It is a great combination as you also go to the famed Serengeti and majestic Ngorongoro Crater.
If you had to say what the highlight of the trip will be, what would you say?
There is an opportunity in every moment to learn something new about life. After a night or two camping and time in the dusty tracks on safari, it very well could be that moment when you get to enjoy the beautiful setting and romantic charm and comfort of your safari camp. It will be much more than that.
Is the walking aspect difficult? What kind of shape do I need to be in?
If you can walk a few miles on flat land without a problem you won't have one here either. It is not terribly strenuous but you will want to be in decent shape so you can enjoy every bit of the experience.
What do you think will be the best part of the adventure?
Waking up every day happy and taking that happiness with you when you depart Africa. Some quality from each place we travel to comes with us to the next destination.
Extensions
For those who don't want to miss out on any aspect of Africa.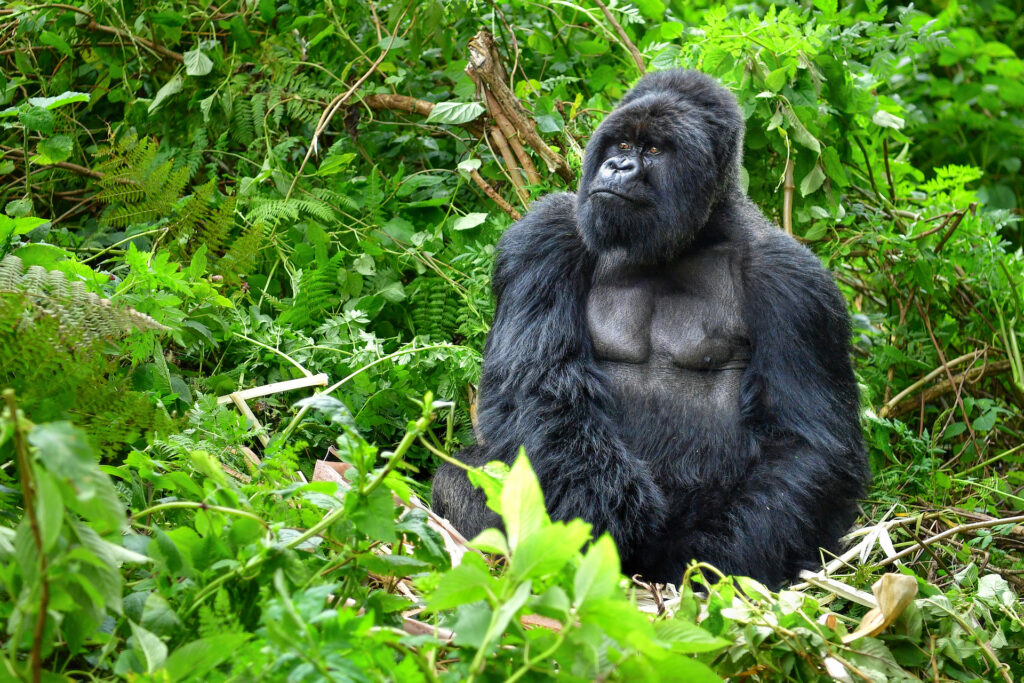 Gorilla Trek Extension
Rwanda
Price
Starting from $4,800
Want us to design a custom journey for you?
Ready to start your adventure?
We're ready to be your guide as you embark on the wondrous discovery of your own great story.