Imagine: You just woke up in Kenya, on the trip of a lifetime. It is the seventh day of your first ever African journey. Every day has been a really big day for you — after all, you are taking a safari with Metamo! We're guessing you have some questions — and we have the answers for you.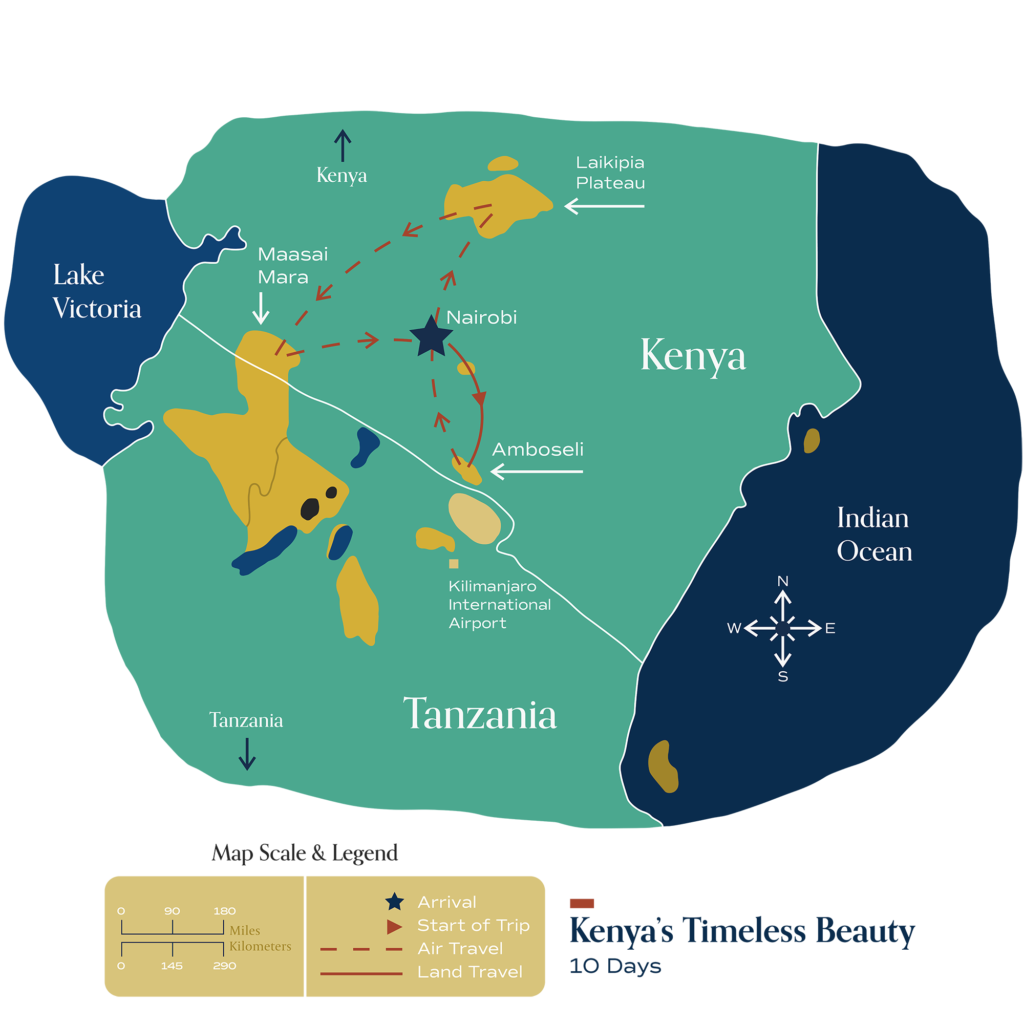 How would a Classic Journey look a week into your African safari?
Assuming you are on one of our Classic Journeys (scheduled safaris) you are either flying from Lewa Downs (on the 10 Day Kenya's Timeless Beauty Journey and on the 13 Days Great Kenyan Embrace) or flying in from Mount Kenya Safari Club (on our Essence of Kenya Journey). Since 2 of the 3 Journeys listed above would start that day in Lewa, you are likely here. Lewa is a Wildlife Conservancy located in central Kenya.
Where are we staying on our safari? What's the lodging like and who are we with?
Your lodge in Laikipia is perched on the edge of an escarpment that stretches as far as the eye can see. Peaceful doesn't come close to describing the morning as you wake up to the light sound of a bell and coffee being brought to the table on your veranda. You are accustomed to arising early on your trip, but that is not a problem when you awake to the fresh morning air, the smell of the Kenyan coffee, and new sounds you've never heard before in the distance.
Today you will travel overland for two hours to an airstrip in your 4 X 4 land cruiser supplied by the lodge you are staying at. The drive takes you across conservancy land that has been the prime example of wildlife conservation on the continent. Reaching the airport, you board your onward flight to Maasai Mara Game Reserve — Kenya's premier game park. Flying over the Great Rift Valley, known as the "cradle of mankind," is humbling. In just under an hour and a half you start to descend and begin to make out tiny moving creatures spread out across endless plains. You also see your first Maasai walking far below — away from the animals in the conservancy, but out in the wild nonetheless. Their bright red shawls (said to scare off lions) are in stark contrast to the earth tones everywhere else.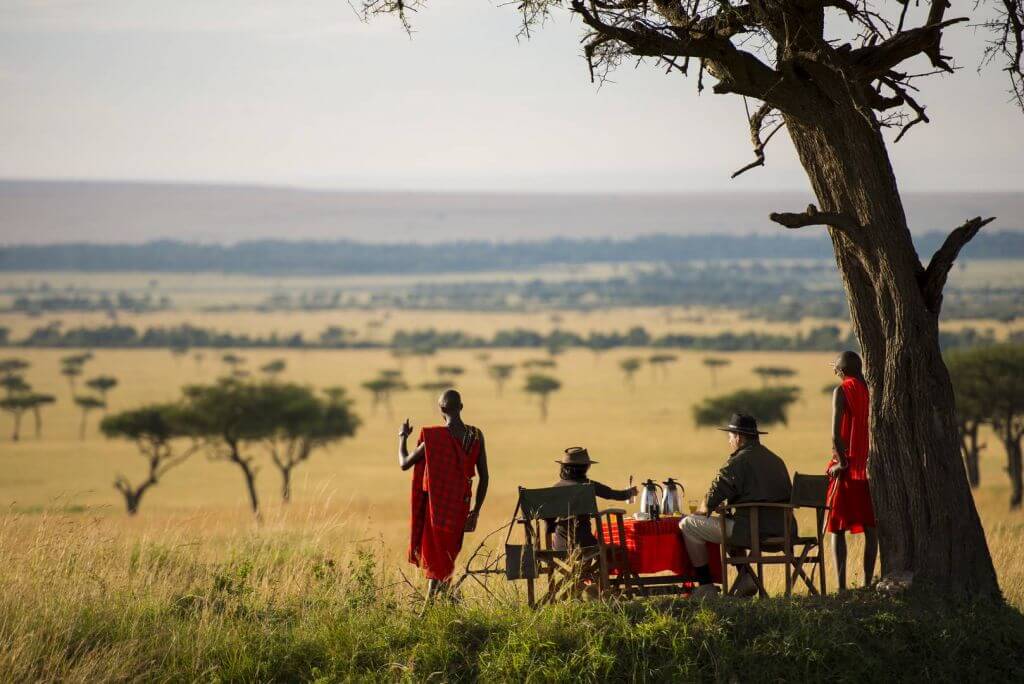 What would I eat for breakfast on this day?
After your coffee on your private veranda, you stroll to the main tent and receive a warm morning welcome from the chef and kitchen staff who know you are leaving today, which shows on their faces. You have been their guest for three nights and lots of laughter has been shared. You enjoy some fresh mango, cheese, perhaps a muffin or delectable homemade bread. You order an omelet with plenty of fresh ingredients from the garden, or eggs to order, bacon, toast, and roasted potatoes. A cup of tea is a nice change of pace.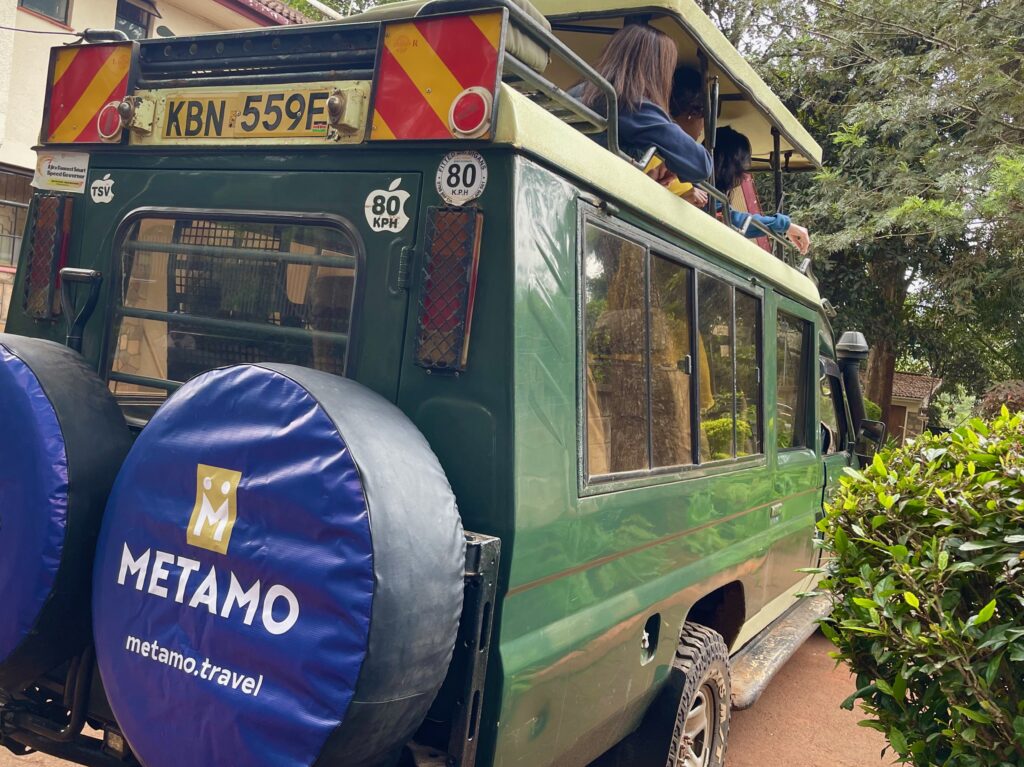 How are we getting there? How long is the trip, what is the vehicle like?
Once at the airstrip in the Masai Mara (known affectionately as "The Mara") — having flown in over the Great Rift Valley and landing in the middle of the Reserve — you enter the lodge safari vehicles and meet your driver/guide. Your Metamo guide is also with you to make sure everything goes seamlessly. Proper introductions are made, adding insight to your experience, but generally making sure that you do not have to worry about a thing. You are a bit surprised at the profusion of wildlife and, depending on the time of the year, possibly witnessing tens of thousands of wildebeest, zebra, and accompanying friends. It is impossible not to stop, observe the various animals, and, of course, take some photographs. It will feel like you are inside the covers of a National Geographic magazine (but better because you're actually there!).
You drive to your new home for the next three nights and the welcome warms your heart: fresh, chilled pawpaw juice (made from a ripe papaya) is handed to you with a big smile, as well as a bright white and chilled washcloth to wipe the inevitable safari dust off your brow. This morning has been one of travel and safariing, so coming to your new incredibly beautiful and spacious tented camp is such a treat. How do they construct something so wonderful so far from civilization? How it blends right into the landscape and seems to be one with the land. The care to build such an ecological friendly camp is impressive. The service is like nothing you've probably experienced. You are not used to the generosity, the sincere hospitality, and absolute grace that the employees of your tented camp have. You feel safer than you would probably anywhere in the world even though there are lions and other creatures possibly very close to the camp.
While your room is where you want to stay and start your book, the great outdoors is calling for another safari. But first, lunch is served. Fresh salad, pasta to order, soup, and the usual cheeses and other delicacies await you. Gathering your camera bag and safari hat, you head off with your driver guide. In Kenya, Metamo uses the services of the lodges and their local guides so each experience at a given destination is different and you learn a different perspective. Your Lodge Driver Guide, as well as your Metamo accompanying guide, excitedly ask you to get inside the safari vehicle so you can all drive off for safari adventures of which there is no predictability. This afternoon the safari lasts for 3-4 hours before returning to your deluxe tented camp in time for a beer or cocktail by the fire before going to your completely romantic and elegant tent for a rest, shower, and relaxation as you revel in the freedom of the safari experience and a renewal of a sense of wonder.
What is the weather like?
July is a wonderful month to be in Kenya. It's not only the coolest month, but there is also a chance of seeing at least the start of the Great Wildebeest Migration. The weather over the year had decided whether or not the animals had crossed the river by now from the Serengeti (Tanzania), seeking the greener grass of the Mara. It's overcast and you felt just a couple of drops of rain on your cheek — the only rain you experienced or will experience on your trip. Then the sky opens up. The sun is warm on your face, but you still keep a light jacket on, especially on your way out on your morning safari and upon your return to camp after your afternoon safari. While July is the coolest month, it is also the start of the high season. In August it will be warmer. There will be more people, but the chances of seeing the full migration in action are very likely. Your Metamo packing list suggested a light jacket and you are happy you packed it!
Maasai Mara is the northern extension of the Serengeti Plains. When you stop for a break you can see over the river and into Tanzania and the actual Serengeti. It is contiguous but the croc-infested river is a real obstacle for the animals. There are a few hundred wildebeest and zebras gathered on the other side looking nervous. Deep in their genetic coding they know they have to cross the river but the 12-foot croc on the other side reminds them that his cousins might not be so visible. Thousands of animals drown each year trying to cross as bottlenecks are common and adrenaline is pumping with so many dangers around them. However, the greener grass is calling on the other side and this cycle of life has been going on for eons.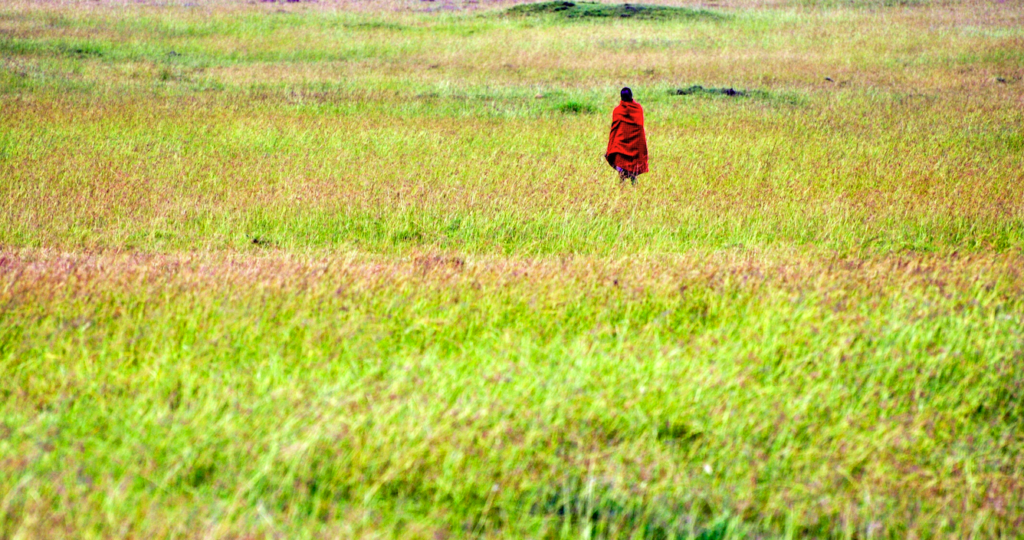 Maasai Mara has rolling hills that stretch on forever and acacias dot the landscape making it extremely picturesque. Watching a giraffe in the distance foraging off of the leaves of the acacia is one of the iconic sites of Africa. Dirt tracks wind their way and criss-cross through the Reserve and going off track of them is not permitted. A striking feature that will be imprinted in your mind is the site of a Maasai in the distance walking with his bright red shawl. At home or on the plains, your eyes will always be on the lookout.