We just got back from Kenya a few hours ago. We went to explore how things really are on the ground on an African safari and beyond. As we talk with our clients and other travel enthusiasts, we want to make sure we are talking to the realities as they are and not as we imagine them to be. It is one thing to talk with our clients about the state of affairs from afar. It is another to speak to them on the ground in Africa on safari, in the cities, and from the actual sites we visit. I am happy to report: All is as incredible as we remembered it and very safe for you if you are ready for a life changing experience and a journey of a lifetime.
We wanted to talk with our team, talk with the lead guides, the staff at the camps, lodges, hotels and resorts, the chefs, those deep behind the scenes – those who guard our camp at night from our animal friends while we are sleeping, and those in the cafes, stores, and on the streets. Our takeaway, there's no reason to hold back from living your great story on an African safari if that is what you want to do. It will only bring you great joy and bring to Africa the needed revenue so the people there can also go out and live their great story. It is a win-win. And guess what… you get the parks much more to yourself like never before (well, perhaps maybe like 30 or 40 years ago).
Returning To Hope
The people are incredible, as always. They have had it tough, especially in the tourism, hospitality, and related industries. That is, worrying about their next meal level. Wondering how they are going to provide for their family, send their children to school.  Children who want to go back to school.  Adults hoping and praying that travelers return to go on an African safari so their lives could get back to normal. So they could have hope and thrive like everyone else on the planet.
Travelers are starting to return. We saw it with our own eyes. We were some of them. On the streets of Nairobi it was hard to tell a difference. Poverty is already such a devastating aspect of life in Africa that for an outsider, it's maybe difficult to impossible to see the deeper level that must exist further behind the scenes. There are also the animals that the rangers and anti-poaching patrols protect. Without the tourist dollars to fund these efforts, the animals are even further in harm's way. Thinking with vision, we see our clients returning enthusiastically, and making a real impact and difference in the lives of the people, and especially those people far behind the scenes.
A People Story
One of our team members was not able to send his three children to school. With our first booking in 2021, we were able to advance him enough money to send all three of kids to school for a full term. This is the difference between a future and not having one, the difference between hard-working and industrious parents not being able to provide and being able to. It has been such an extremely thin line during Covid. As a Metamo client, you not only put one child through school for an entire year through our One-to-One Promise but the proceeds from your trip also help behind the scenes. This makes your journey with Metamo transformational not only on a personal level but transformational for others you are not even sometimes aware of.
The African Safari
Having just come off of our African safari we can say we never tire of it. Upon our return last night our daughter said of her favorite part about safari, "It's when we learn of an animal sighting – like of a cheetah or leopard or pride of lions – and we are rushing to find them. Or when the driver-guide has to rush to make it out of the park by the 6:30 PM deadline but we come across something amazing. He waits as long as he possibly can and then rushes full speed to the park entrance gate just in the nick of time."
Being in the Moment
On this trip in particular, we appreciated being there. Being present. Observing and wondering and watching. The wildebeest edge towards the Mara River from the Tanzanian side and ponder crossing it into Kenya for a moment. They stop. Disappear to the east to leave it for another day. Amazed at the keen eye of our guides – how they see things others don't.  Something flickering a kilometer away that ends up being a lion's right ear amid the tall grass.  Incredible. Predicting the course of a rhino through a large swath of brush when, through persistence and patience, we are placed in just the right area when the rhino (and her baby) come out in the rain and out into the open (and after observing in peace and quiet and taking our photos, a big rush then commences as the sun starts to go down to make it out of the park in time!).
Or, after someone in our group spots a leopard jump from a lone tree over a hyena who was waiting underneath (smelling the leopard's fresh impala kill in the tree), our guide takes us on a journey to locate the leopard who mysteriously, but not surprisingly, stealthy disappears.  Back at camp we sit around the fire, talk with our guides and camp guards, and a group of travelers who arrived after us, other vanguards deciding enough is enough and adventure awaits!  Dinner is served and it is, as always, absolutely delicious and creatively made (and almost all of the food is grown on the property). The sun has already set.  Our Maasai Guard escorted us to our tents.  In the middle of the night a lion roars down on the savannah below.  We awake to the sounds of birds and new sounds. Zebras walk by our tent. Magical.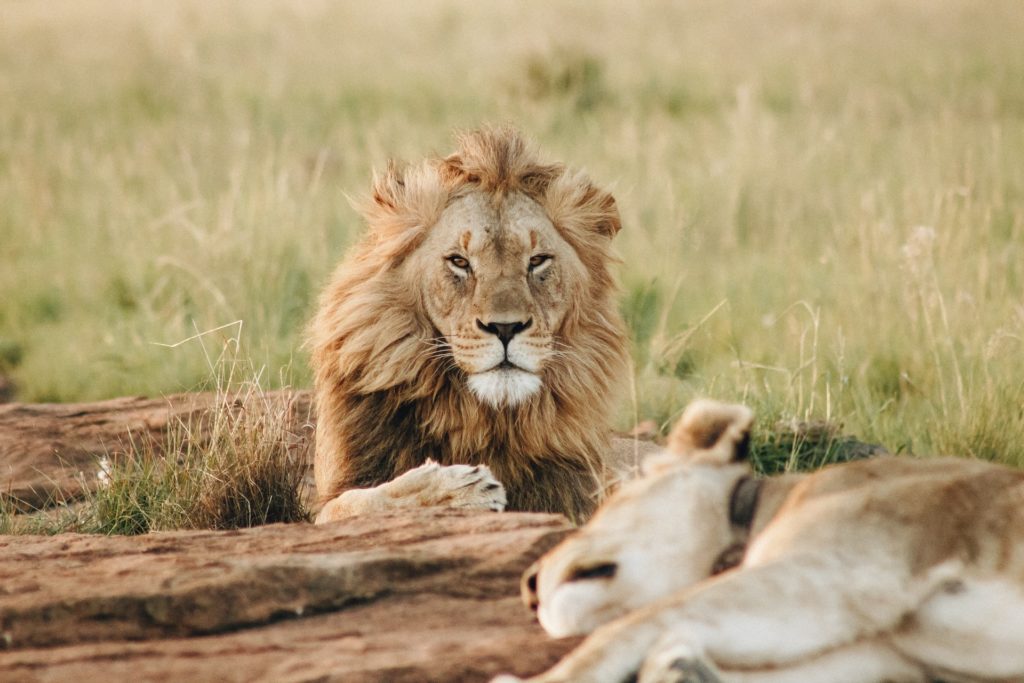 An Animal Story
We couldn't figure out why the lion kept digging. Kind of like the way your cat moves around her litter box. But this was on a grand scale over twenty square meters or so on the Serengeti Plains of Maasai Mara. The lioness had killed something – most likely with help from her sisters – the night before. We couldn't see what it was at first. Then we saw the black and white stripes. Very clear at that point. She was on her own and trying to drag what was left of the zebra (pronounced "zedbra" on safari) to a safe place.
But she was too tired or she deemed it impractical to drag it so far out of the open savannah land. Then she started her digging, moving from one spot to another. We noticed there were blood stains across the tall brown grass where she obviously had brought down her kill. It was perplexing. Our guide explained: "she is covering the blood with the dirt she is digging up to diminish the scent so the hyenas don't come." Now it made sense. It was quite stunning to watch. There was nothing but the slight sound of her movement and the fluttering of winged creatures passing by as the sun started to rise higher in the morning sky. In front of us, elephants then walk by. They have the right of way.
Live Your Great Story®
In our mail this morning we discovered that we received word that Metamo's motto, "Live Your Great Story" became officially registered as our trademark. Funny thing, just last night on the plane ride home I thought about the motto and why we cherish it. We love it because it's real. Our stories are our lives. It is of course true that going on an African safari adventure is but just one way to expand one's horizons and create new stories for a lifetime. And, yes, we are biased. With all of that in mind, on the plane I thought about it: after so many visits to Africa, we never tire. We've been to other places in the world and they are wonderful (we can't wait to see more), but nothing quite compares to Africa.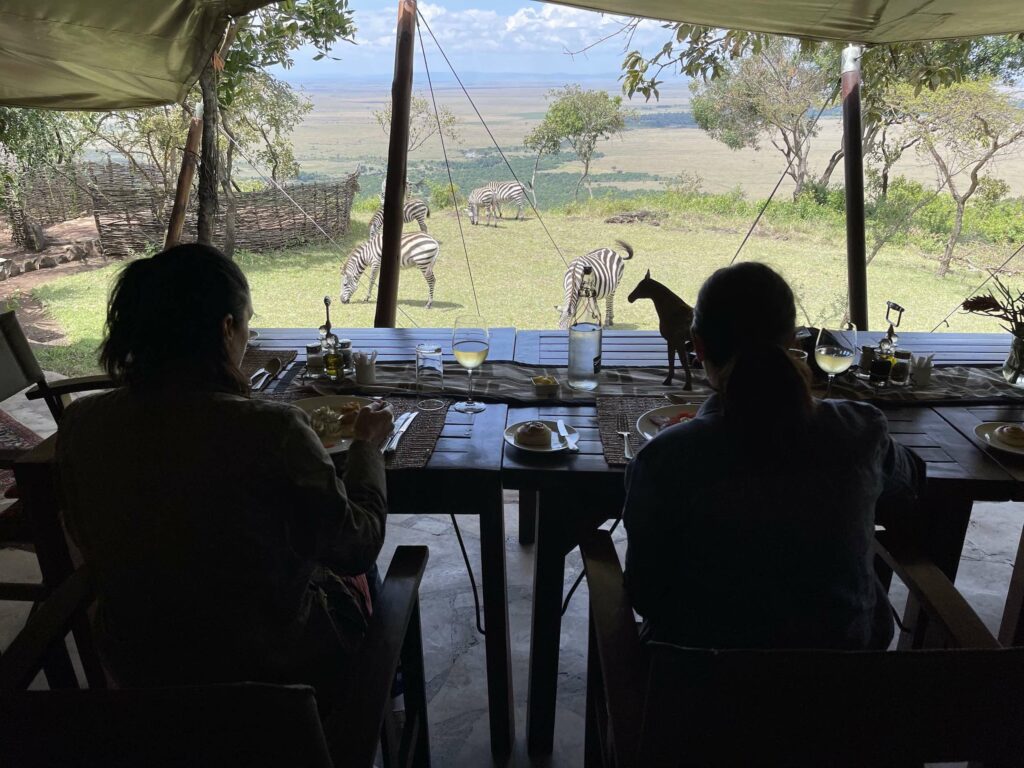 Refreshing and Rejuvenating
There is something about Africa that spurs on something else deep inside. It's something beyond the horizon, like the flickering of the lion's ear or the deep smiles and joy that radiates from the people. The brightness of an elephant tusk when her body is darkened by an early morning rain. There's something refreshing and rejuvenating. Something undefinable that makes stories come alive. Back home we were still on the safari. On the journey. Enlivened. Transformed in some way with a new or refreshed perspective.
There are memories that reoccur: the hornbills that flew over our heads in Nairobi with their distinct calls landing above our heads in a neighboring tree, the kidding around back and forth with our guide or the young woman taking our order for coffee at the cafe, the delicious fish and lobster dinner on the coast with new and old friends, the tradewinds blowing our cares away.  A lone hyena. Bumpy roads.  In Nairobi, better roads with a new bypass are being constructed; showing progress for the people. A long time coming. Hope for a return of even more African safari goers worldwide. Hakuna matata.
Tatu's Serendipitous Path to the African Safari
Travel transforms and comes in all forms. Tatu was our safari guide. He shared a personal story with us. One day when he was young he was walking from his Maasai village feeling dejected because he just wanted to find a way to work. Of course there were few, if any, options.
John Presents an Opportunity
An older gentleman named John happened to be driving down that same dirt road that very same day. John had a thriving African safari business but was also instrumental in helping transform Maasai Mara, overhauling the conservancy fee structure, building campsites in the parks, and so much more. He saw a Maasai young man walking down the road and rolled down his window and said to him, "Are you interested in working?" It was like something dropped from the sky. Tatu did not hesitate, jumped in John's truck, and off they went.
John asked Tatu, "What about your mother? She will be worried about you." Tatu said she will be fine. He was a Maasai Warrior after all. Within 5 minutes they were at the airstrip and in John's plane. It was obviously Tatu's first time in a plane. Minutes ago he was walking down the road wondering about his future. Now he was going to fly above. John asked him if he was scared. Tatu told John he was a Maasai and does not get scared. Impressive.
A Lifelong Friendship
Despite the age difference, the two became great friends. Tatu became a talented game spotter and spotted game for John's company for six years. He then graduated to become a guide. Before John retired, he helped get Tatu a job as a guide for another company.  As chance would have it, we ended up meeting John at our lodge when he came to visit our guide, Tatu. John also told the same story (and mentioned he got word back to Tatu's mother that he was okay).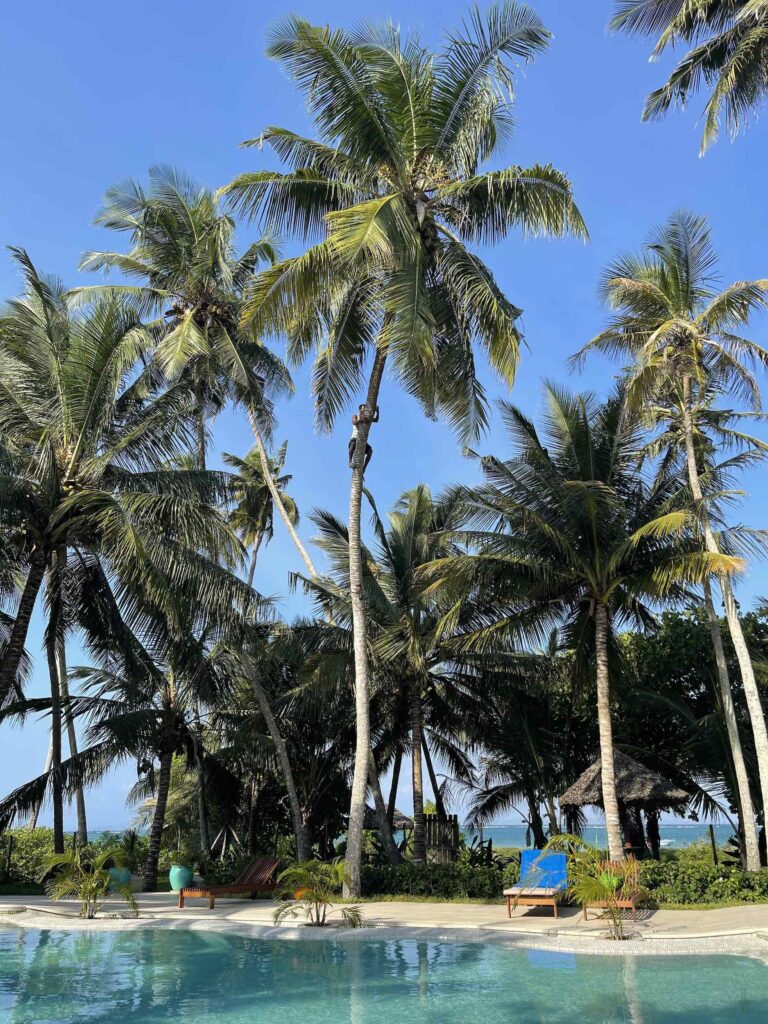 Relaxation on the Kenyan Coast After an African Safari
Another story – one of many from our recent journey. After our wonderful African safari and time in Nairobi, we went to the Kenyan coast. It is such an amazing experience to visit the coast after the magnificent days on safari and seeing so many animals we could never count them and exploring cultures so different from our own. After this long year, there is nothing quite like the feeling of having the trade winds blow all around and through you.
Walking along the Indian ocean, a man climbs a coconut tree next to the pool. Books to read. Drinks custom ordered. Fabulous fresh fish meals are prepared every day. A monkey in the baobab tree dares you to move past. Conversations with our cook about his tribal home and language. We learn a few words. It makes all the difference.
Oliver's Story
At our last dinner we were joined by a man we'll call Oliver. Oliver came to the Kenyan coast twenty-one years ago not intending to stay but for a few months. Twenty-one years later, he speaks Swahili, knows the inside out of local politics, and is intimately involved with the efforts to save the elephants in a nearby elephant sanctuary. Oliver told us about how they moved the elephants by truck and helicopter to Tsavo only to have some of the elephants walk back home. He gave us tips as to which mosquitoes give you malaria and why he has never gotten malaria in twenty plus years (and doesn't take any medication). His stories shed light on the local people and what their lives are like. He makes us think of the boundless possibilities of life. There is really so much more out there.
In Conclusion
There are people all over the world who live interesting lives. It is on trips like this – wherever in the world we may go, where we learn of other peoples' stories, which only add to our own, and by their very nature, expand our horizons ever further. Interesting how that is. These things can't be planned for or predicted. You just have to go for it and live your great story in the process.
We are in communication with Oliver via What'sApp with talk about another visit at some point. Who knows if and when it will happen.  You know how things go.  If we do happen to meet again, it will be very nice indeed. It is fun to meet interesting people. It is uplifting to know there is more out there than how we live our day to day lives. As we explore and meet new people living their own great story, it adds body and texture to our own. It's a reciprocal affair and a beautiful one.  And seeing thousands of animals on the Serengeti Plains fills our minds with images of beauty that are hard to forget.
If you are interested in living your great story on an African safari, please reach out. We love to explore the possibilities.
Tigara Buya, ("Remain Well" in Kisi, the tribal language of our chef Cosmos on Diani Beach),
Greg & Susan Traverso
Co-Founders
Metamo